About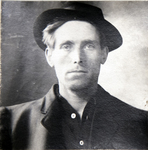 Born in 1879 in Gavle, Sweden, Joseph Hillstrom (also known as Joe Hill) immigrated to the United States in 1902, and worked in a variety of jobs including laborer, miner, lumberman, and longshoreman. The often brutal working conditions he witnessed led him to join the Industrial Workers of the World (I.W.W.) where he became a renowned singer and songwriter of the early 20th century labor movement.
In 1913 Joe Hill came to Utah and found work in the mines in Park City. On January 10th, 1914 a murder was committed in Salt Lake City that resulted in the deaths of grocery store owner John Morrison and his son Arling. The same night, Joe Hill appeared at the office of doctor Frank M. McHugh, with a gunshot wound to the chest. Suspicion soon fell on Hill as a suspect for the murder of Morrison and his son, based on the gunshot wound (which would have been inflicted from return fire from Morrison), and circumstantial evidence brought to trial.
Hill was convicted of the murders of the Morrisons and his execution was scheduled for late 1915. The trial engendered international debate over Hill's conviction and whether his activity as a labor organizer had made him a target of political and business interests in the west. But while the execution was delayed, the conviction was not overturned, and Hill was executed by firing squad at the Utah State Prison in Sugar House on November 19, 1915.
Several records illuminate the case of Joe Hill, the international controversy it engendered, and the worldwide response and publicity his trial and subsequent execution generated.
Works
19 pages: 89% complete (16% indexed, 100% transcribed, 11% needs review)
32 pages: 34% complete (3% indexed, 100% transcribed, 66% needs review)
25 pages: 92% complete (0% indexed, 100% transcribed, 8% needs review)
47 pages: 40% complete (2% indexed, 100% transcribed, 60% needs review)
32 pages: 96% complete (0% indexed, 100% transcribed, 3% needs review)
16 pages: 93% complete (0% indexed, 100% transcribed, 6% needs review)
13 pages: 38% complete (8% indexed, 100% transcribed, 62% needs review)
45 pages: 40% complete (0% indexed, 87% transcribed, 47% needs review)
17 pages: 76% complete (0% indexed, 88% transcribed, 12% needs review)
33 pages: 87% complete (9% indexed, 100% transcribed, 12% needs review)
Displaying works 1 - 10 of 84 in total
Subject Categories