About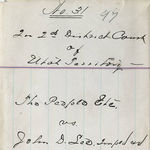 All transcription of the John D. Lee case files are DONE. Please don't join expecting any more works to be added.
Explore the Subjects tab to see all the names and places getting linked from within documents.
Case files document criminal cases as they proceed through the court system and subsequently become the official files of individual cases. This case file is for the John D. Lee trial concerning his involvement in the 1857 Mountain Meadows Massacre. Lee was convicted and executed in 1877.
Currently these documents are not in chronological order, as one might expect in a case file. If you would like to follow the case as it originally proceeded, use the series inventory to locate a place to start or continue from a list that is in the original file order and generally chronological.
Curious about this historical event? You can get some great context from one of our blog posts, one of a few famous trials compiled by a law professor, a wiki for the 1857 Iron County Militia Project, and a published lecture by Richard E. Turley Jr., an author of Massacre at Mountain Meadows.
Works
All works are fully transcribed.
Subject Categories