About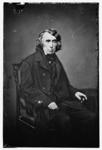 Roger B. Taney practiced law in his home state of Maryland long before he became an influential member of President Andrew Jackson's cabinet and later wrote the majority opinion in the infamous Dred Scott v. Sanford case (1857) as chief justice of the United States Supreme Court.
Taney (1777-1864) handled many of the cases in this collection just as he began his political ascent in state politics. The papers featured here are legal documents from his law practice in Frederick, Maryland. Most items fall between 1805 and 1818. Of special note are the cases concerning slaves.
These papers offer a unique opportunity to examine Taney's legal career in its formative years before he rose to national prominence.
Works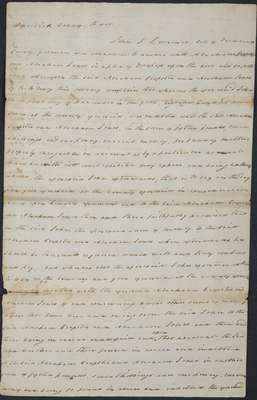 Abraham Crapster and Abraham Jones filed suit against John Lawrence because he was indebted to them for just over £15. After repeatedly refusing to repay the debt, Crapster and Jones claimed injury with damages amounting to £50.
2 pages: 100% indexed, 100% transcribed
Barton Garrott sued John Garrott for £158 and eleven shillings. Roger B. Taney was the attorney for Barton Garrott who maintained that due to John's failure to repay a loan of £158 and eleven shillings upon demand, Barton incurred damages worth £200.
2 pages: 100% indexed, 100% transcribed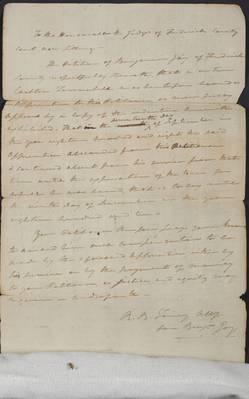 In this subpeona, Benjamin Joy claimed that Carlton Tannehill had been bound as his apprentice, but Tannehill ran away. Joy further claimed that he believed Tannehill would run away from justice, thereby avoiding the decision of the court unless the court forced him to give security for his...
2 pages: 0% indexed, 100% transcribed
Brought to court by James Allston, this case revolves around the debt accrued by Thomas Contee and Alexander Contee prior to their deaths. They first borrowed $788.17 and then went back to him to borrow the same amount again. Upon their respective deaths, however, the debt was still outstanding....
4 pages: 0% indexed, 25% transcribed, 75% needs review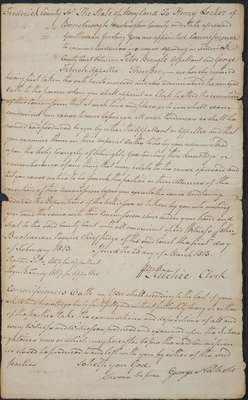 This small document appears to correct an earlier agreement.
2 pages: 0% indexed, 100% transcribed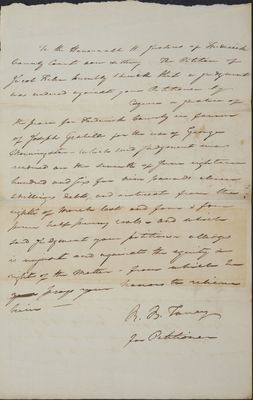 A petition made by Roger B. Taney on behalf of Joseph Grabill. The Justice of the Peace for Frederick County, MD had previously found against Grabill and in favor of Jacob Kiles for the use of George Morningstar, which amounted to a sum of £9 eleven shillings plus interest. Grabill petitioned...
2 pages: 0% indexed, 50% transcribed, 50% needs review
Taney represented Jacob Winter in this case. He filed this petition to have a decision rendered against Winter, and in favor of Jonathan Haslett, for $20 plus interest accrued overturned. Previously, John Huston, a Justice of the Peace for Frederick County, had ruled against Winter. Winter...
2 pages: 0% indexed, 0% transcribed, 100% needs review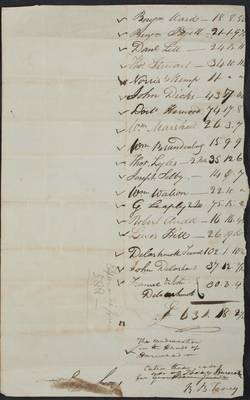 This single piece of paper contains various clients names and charges / payment amounts.
1 page: 0% indexed, 0% transcribed, 100% needs review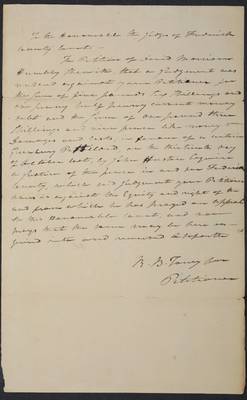 Taney, representing David Morrison, filed this petition on Morrison's half to attempt to reverse a previous ruling that stated Morrison owed Greenberry Petticord one pound, three shillings, and nine pence. Arguing that this judgment was against the equity and right of Morrison, Taney asked the...
2 pages: 50% indexed, 100% transcribed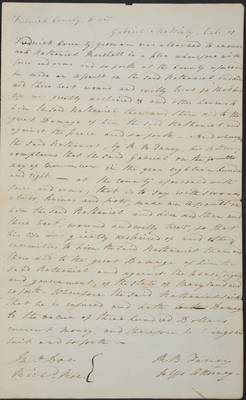 Roger Taney represented Nathaniel Marshall in this case. Marshall accused Gabriel Mattingly of attacking him with swords, clubs, knives and fists. Marshall claimed $300 worth of damages in this suit againt Mattingly.
2 pages: 0% indexed, 0% transcribed, 100% needs review
Displaying Work 1 - 10 of 17 in total
Subject Categories