About
Robert "King" Carter (1662/3-1731) was born in Lancaster, Virginia, the son of John Carter and Sarah Ludlow Carter. One of the wealthiest colonists in eighteenth century Virginia, by the time of his death in 1732, Carter owned over 300, 000 acres of land, 48 plantations and owned over seven hundred enslaved individuals. The
Carter Family Letterbook
(MSS 4996 from the Tracy W. McGregor Library in the Small Special Collections Library) contains letters, 1732-1738, of John Carter, Charles Carter II, and Landon Carter, regarding the settlement of Robert "King" Carter's estate.
The letterbook also contain a second series of letters dated 1754-1768, from Charles Carter II to various merchants regarding the administration of the plantations "Corotoman" and "James River" (Shirley), financial matters, and tobacco.
Miscellaneous entries from 1775-1780, and 1782 include accounts for cash, the purchase and hire of slaves, taxes in Richmond, Caroline, and Westmoreland counties, Va., and the purchase of dry goods, grain, tobacco, horses, livestock; and entries for the measurement and sale of corn.
Works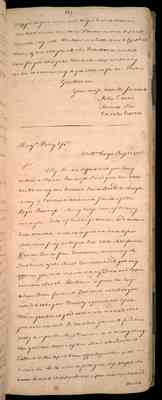 458 pages: 99% complete (24% indexed, 100% transcribed, 1% needs review)
Subject Categories