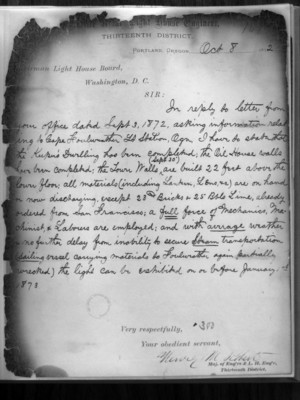 Office of the Light House Engineer,
THIRTEENTH DISTRICT,
PORTLAND, OREGON, Oct 8 1872
Chairman Light House Board,
SIR: In reply to letter from your office dated Sept 3, 1872, asking information relating to Cape Foulweather Lt Station, Ogn, I have to state that the Keeper's Dwelling has been completed; the Oil House walls have been completed; the Tower Walls (Sept 30") are built 22 feet above the lower floor; all materials (including Lantern, Lens, & c) are on hand or now discharging, except 23 lbs??? Bricks & 25 Bbls Lime, already ordered from San Francisco; a full force of Mechanics, Machinist, & Laborers are employed; and with average weather & no further delay from inability to secure Steam transportation (sailing vessel carrying materials to Foulweather again partially wrecked) the light can be exhibited on or before January 1st 1873.
Very respectfully, Your obedient servant Henry M. Robert Maj. Of Eng'rs & L.H. Eng'r Thirteenth District.
Last edit about 2 years ago by
lkarnatz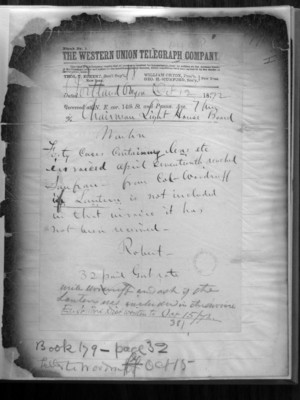 Blank No. 1 THE WESTERN UNION TELEGRAPH COMPANY The rules of this Company require that all messages received for transmission, shall be written on the message blanks of the Company, under and subject to the conditions printed thereon, which conditions have been agreed to by the sender of the following message.
THOS. T. ECKERT, Gen'l Sup't, WILLIAM ORTON, Pres't, NEW YORK NEW YORK GEO. H. MUMFORD, Sec'y,
Dated Portland Oregon Oct 12 1872
Received at N.E. cor. 14th St. and Penna. Ave. 7??? c/o Chairman Light House Board
Naihn???
Forty cases containing lens etc invoiced April seventeenth reached San Fran—from Col-Woodruff if Lantern is not included in that invoice it has not been received
32 paid Gnl rate write Woodruff and ask if the Lantern was included??? in the invoice Eng'r 3rd Dist written to Oct 15/72.
Last edit about 2 years ago by
lkarnatz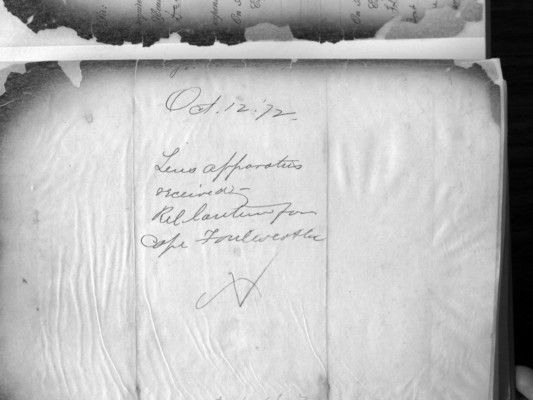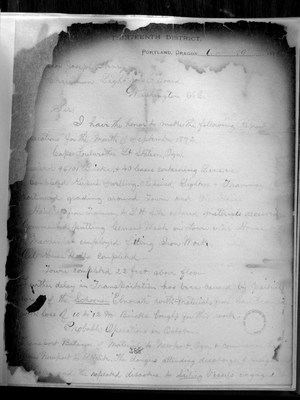 THIRTEENTH DISTRICT, PORTLAND, OREGON OCT 19 1872
???sor Joseph Henry Chairman Light-House Board, Washington D.C.
Sir: I have the honor to make the following Report operations for the month of September 1872.
Cape Foulweather, Lt Station, Ogn. Received 96101 Bricks, & 40 cases containing Lens, &c. Completed Keepers' Dwelling. Repaired Lighters & Tramway.Continued grading around Tower and Oil - house.Hauled from tramway to L.H. site assorted materials received. Commenced putting Cement Wash on Tower & Oil - House. Machinist employed fitting Iron Work. Oil house walls completed
Tower completed 22 feet above floor - Further delay in Transportation has been caused by partial wreck of the Schooner "Elnorah" with materials from San Francisco, with loss of 10 to 12 M bricks bought for this work.
Probable Operations in October Transport balance of materials to Newport, Ogn. & commence hauling from Newport to L.H. site. The dangers attending discharge of freight at Cape and the repeated disasters to Sailing Vessels engaged in
Last edit about 2 years ago by
lkarnatz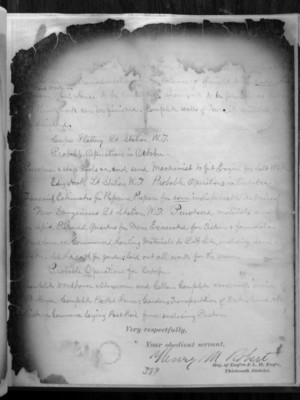 bringing materials to Foulweather ??? is ??? to secure transportation of the balance of freight to The Cape this season. ood??? work in Oil House to be completed. Iron work to be placed as far as the Brickwork can be finished. Complete walls of Tower, if materials can be freighted.
Cape Flattery Lt. Station, W.T. Probable Operations in October Purchase & ship Tools & c, and send Machinist to fit Engine for Salt Water.
Ediz Hook Lt Station W.T. Probable operations in October Transmit Estimates for Repairs. Prepare for some indispensable repairs.
New Dungenness Lt Station, W.T. Purchased materials and ??? on Spit. Prepared quarters for Men. Excavated for cistern & foundation for Wood house & c. Commenced hauling Materials to L.H. Site, including sand & water. Selected earth for garden; laid out all work for the season. Probable Operations for October - Complete Woodhouse & Store-room and Cellar. Complete woodwork inside of Lt House. Complete Picket Fence; Garden; Transportation of Water, Sand, & Rails & Cisterns. Commence laying Post-Rail Fence enclosing Pasture.
Very Respectfully, Your obedient servant, Henry M Robert Maj. of Eng'rs & L.H. Eng'r Thirteenth District
Last edit about 2 years ago by
Chloe Holbrook