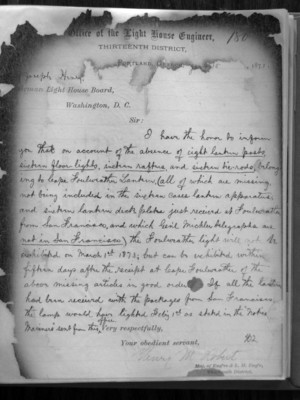 Office of the Light House Engineer Thirteenth District
Portland, Oregon, Jan 15, 1873
Joseph Henry Chairman Light House Board Washington, D.C.
Sir: I have the honor to inform you that on account of the absence of eight lantern posts, sixteen floor-lights, sixteen rafters, and sixteen tie-rods, belonging to Cape Foulweather Lantern, (all of which are missing. not being included in the sixteen cases lantern apparatus, and sixteen lantern deck plates just received at Foulweather from San Francisco, and which Gene Michler telegraphs are not in San Francisco) The Foulweather light will not be ???ehibited on March 1st 1873; but can ???ehibited within fifteen days after the receipt at Cape Foulweather of the above missing articles in good order. If all the lantern had been received with the packages from San Francisco, the lamp would have lighted ???eby 1st as stated in the "Notice ??? Mariners" sent from this office.
Very respectfully, Your obedient servent Henry M Robert Maj. of Eng'rs & L. H. Eng'r Thirteenth District
Last edit over 1 year ago by
Jayk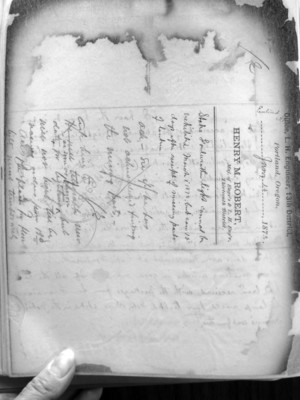 Office, L. H. Engineer, 13th District, Portland, Oregon,
January 15, 1873.
Henry M Robert Maj. of Engr's & L. H. Eng'r, Thirteenth District.
Status Foulweather light cannot be exhibited March 1 1873; but can 15 days after receipt of missing parts of lantern
Ach - ??? ??? - he has not ??? finding the missing parts.
???
Last edit over 1 year ago by
Jayk
Blank No. 1 THE WESTERN UNION TELEGRAPH COMPANY The rules of this Company require that all messages received for transmission, shall be written on the message (???) of the Company, under and subject to the conditions printed thereon , which conditions have been agreed to be the sender of the following message.
THOS. T. ECKERT, Gen't Sup't WILLIAM ORTON, Pres't, NEW YORK GEO. H. MUMFORD, Sec'y, } NEW YORK
Dated Portland Oregon Jan 22 1873 Received at N. E. cor. 14th St. and Penna. Ave. To Chairman Light House (???)
Lantern list just read includes missing pieces except floor lights location of foul weather correct according to coast pilot of Oregon corrected bearing sent by mail suspend publication of notice to hearing till telegraphed on my return from Foulweather Roft 44 Paid G Role Q CV (???)
Last edit over 1 year ago by
Jayk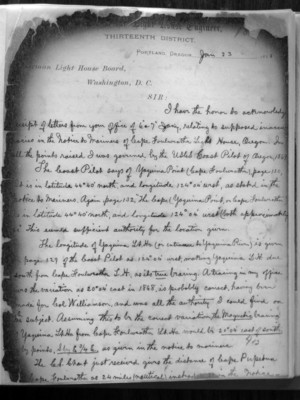 The Light House Engineer Thirteenth District
Portland, Oregon Jan. 23, 1873
Chairman Light House Board Washington, D.C
Sir: I have the honor to acknowledge receipt of letters from your office of 6" & 7" Jan'y , relating to supposed inaccuracies in the Notice to Mariners of Cape Foulweather Light House, Oregon. In all the points raised I was governed by the USCS Coast Pilots of Oregon,1869.
The Coast Pilot says of Yaquina Point (Cape Foulweather),page 130, it is in latitude 44 degrees 40' North, and longitude 124 degrees 04' West", as stated in the notice to Mariners. Again, page 132, "The Cape (Yaquina Point, or Cape Fowlweather) is in latitude 44 degrees 40' North, and longtitude 124 degrees 04" West",(both approximately SE" This seems sufficient authority for the location given.
The longitude of Yaquina Lt. Ho. (or entrance to Yaquina River) is given on page 129 of the Coast Pilot as 124 degrees 04' west, making Yaquina L.H. due south from Cape Foulweather L.H., as its true bearing. A tracing in my office covers the variation as 20 degrees 04"east in 1868, is probably correct, having been made for Col. Williamson, and was all the authority I could find on the subject. Assuming this to be the correct variation, the Magnetic bearing of Yaquina Lt. Ho. from Cape Foulweather Lt. Ho. would be 20 degrees 04' east of south, by points, S by E 3/4 E, as given in the notice to mariners.
The C.S. Chart just received gives the distance of Cape Perpetua to Cape Fowlweather as 24 miles(nautical) instead of 21 in the notice
Last edit over 1 year ago by
Jayk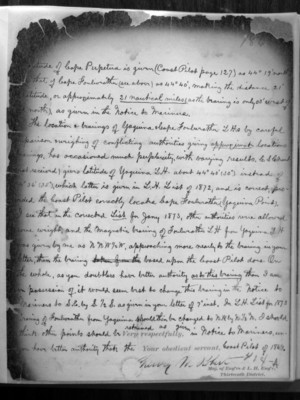 -latitude of Cape Perpetua is given (Coast Pilot page 127) as 44 degrees 19' North is that of Cape Foulweather (see above) as 44 degrees 40, making the distance 21' latitude, or approximately 21 nautical miles(as the bearing is only 03' west of true north), as given in the Notice to Mariners.
The location & bearings of Yaquina & Cape Foulweather L Ho. by careful comparison & weighing of conflicting authorities giving approximate locations & bearings, has occasioned much perplexity, with varying results . C S Charts just received) gives latitude of Yaquina L.H. about 44 degrees 40'(30") instead of 44 degrees 36'(35"), which latter is given in L.H. List of 1872, and is correct, provided the Coast Pilot correctly locates Cape Fowlweather (Yaquina Point). I see that in the corrected List for Jany 1873, other authorities were allowed some weight, and the magnetic bearing of Fowlweather L H from Yaquina L H was given by as N NW 1/2W, approaching more nearly to the bearing in your letter, than the bearing based upon the Coast Pilot does. On the Whole, as you doubtless have better authority as so this bearing than I am in possession of, it would seem best to change this bearing in the Notice to Mariners to S.E. by S. 1/2S. as given in your letter of 7" inst. In L.H. List of 1873 bearing of Fowlweather from Yaquina should then be changed to N.W. by N.1/2N. I should think other points should be retained as given in Notice to Mariners, until you have better authority than the Coast Pilot of 1869.
Your obedient servant
Henry M. Roberts Maj. of Eng'rs & L. H. Eng'r Thirteenth District
Last edit over 1 year ago by
Jayk