Pages That Need Review
Visitor Logs August 15th 1887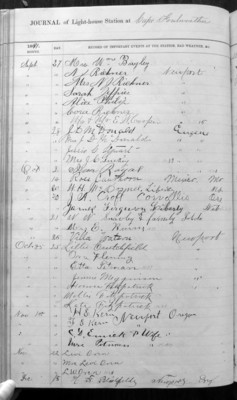 1891
Sept. 27
Mrs. Wm Bagley N J Rickner Newport Mrs N J Rickner Newport Sarah Jeffries Newport Alice Philip Newport Cora Rickner Newport Ms & Mr E. W. Cooper Newport 1515
Sept. 28
J D McDonald Eugene Mrs J D McDonald Eugene Jessie C Stewart Eugene Mrs J C Lucky 1519 Eugene
Oct. 2
Ina Royal Eugene 1520
Oct. 14
Ross Cauthoon Mexico Mo.
Oct. 20
W. H. McConnel Liberty Neb. J. A. Croft Corvallis Ore James Ferguson Liberty Neb 1524
Oct. 21
W W Wnavley & 5 family Toledo Mrs E. Burns 1533
Oct. 25
Villa Watson Newport Lillie Crutchfield Newport Ora Fleming Newport Etta Titman 1537 Newport Jennie Megginson Newport Honora Fitzpatrick Newport Mollie Fitzpatrick Newport Kate Fitzpatrick Newport
Nov. 1
H. E. Kern Newport Oregon F. E. Kern Newport Oregon C. D. Emick & wife Newport Oregon Mrs Pitman Newport Oregon 1544
Nov. 22
Levi Oren Mrs Levi Oren L. W. Oren 1548
Dec. 15
H. [? looks like old German/Danish script] Blichfeld Newport Oreg.
Last edit 8 months ago by
CM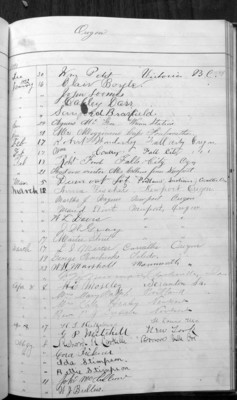 1891
Dec 30
Wm Petit Victoria B. C. 1549
1892
January 16
Clair Boyle John Loomis Oakley Darr Sanford Brasfield
January 24
Agness McGee Wrenn Station
January 31
Mrs Meddinson Cape Foulweather
Feb 17
Robert Wonderley Fall City Oregon Wm Coudrey Fall City Oregon Robt Ford Falls CIty Ogn
Feb 21
Had one visitor Mr Collins from Newport
Mar 5
[Dumout Lotz?] Portland Indians Corvallis Ore
Mar 12
Anna Fischer Newport Oregon Martha J Wagner Newport Oregon Maud Stout Newport Oregon W L Davis Newport Oregon J W Gray Newport Oregon
Mar 17
Master Stout Newport Oregon L I [Merveer? Movar? Mevar?] Corvallis Oregon
Mar 19
George Rosebrooks Toledo
Mar 23
W. D. Marshall Monmouth Oregon F. M. Newman Clarksville, Ia.
Apr 8
H E Moseley Scranton Ia. Mrs Mary Ralph Portland Mrs Kate Healey Newport Rev P J Lynch Newport
Apr 17
H. T. Heitzeburg St. Louis Mo. G P Mitchell New York
May 8
Richard R Larkelle Brownsville Ore Cora Rickner Ida Stimpson Hettie Stimpson
May 11
Joh[n?] McCulland W J Bullus
Last edit 8 months ago by
CM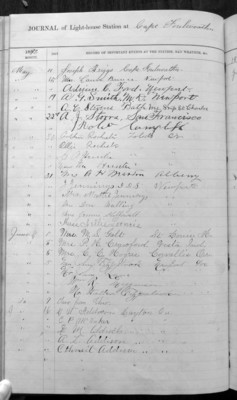 1892
May 11
Joseph Briggs Cape Foulweather
May 15
Mrs Laura Bunce Newport Adrian C. Ford Newport
May 19
A. G. Smith M. D. Newport A. C. Stevens Bath Me. Ship St Charles
May 22
A. J. Storrs San Francisco Robt Campbell
May 30
Arthur Rochester Toledo Or Ollie Rochester Toledo Or E [A or P] Hunter Toledo Or [Mrs Mr?] Hunter Toledo Or
May 31
Mrs A H Marton Albeny J Jennings DDS Newport Mrs Mattie Jennings Newport Mrs Dora Walling Newport Miss Nellie Loomis Newport
June 1
Mrs M. S. Galt St. Louis Mo.
June 5
Mrs. P. H. Crawford Vesta Ind. Mrs C. C. Hogue Corvallis Or. Mr John Fitzpatrick Newport Ore Mr John Lane Newport Ore Wm R. Megginson Newport Ore Mr Walter Fitzpatrick Newport Ore
June 9
Two from Ohio.
June 16
C W Addison Dayton Ore C. P. McVicker Dayton Ore L. M. Aldrich Dayton Ore A. L. Addison Dayton Ore Othneil Addison Dayton Ore
Last edit 8 months ago by
CM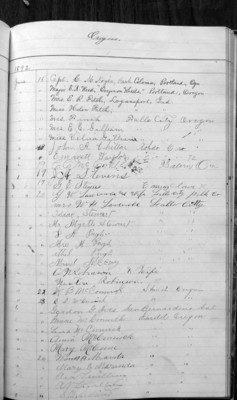 1892
June 18
Capt. C. M. Noyes, Bark Coloma, Portland, Ogn. Major E. A. Weed, "Oregon on Wheels." Portland, Oregon Mrs. E. R. Fitch, Logansport, Ind. Miss Helen Fitch, Logansport, Ind. Mrs. Finch Falls City Oregon Mrs. E. E. Gilliam Falls City Oregon Miss Velna Gilliam Falls City Oregon
June 19
John A. Chilton Toledo Ore. Emmett Taylor Toldeo Ore. 72 C. C McCorkle Salem Orn J A Stevens G E Stevens Corning Iowa 75
June 20
[G or Y] W Lawrence and Wife Falls City Polk Co Mrs W H Lawrence Falls Citty Isaac Stewart Falls Citty Mr Myrtle Stewart Falls Citty D H Pugh Falls Falls Citty Mrs M Pugh Falls CItty ethel Pugh Falls Citty Maud McCoy Falls Citty A N Robinson & wife Newton Robinson 87
June 22
W B McCormick Shedd Oregon
June 23
E L McCormick Shedd Oregon Gordon G. Ives San Bernadino Cal. Gracie McCormick Shedd Oregon Lena McCormidk Shedd Oregon Anna McCormick Shedd Oregon Mary McCune Shedd Oregon
June 24
Thomas H Maranda Shedd Oregon Mary E Maranda Shedd Oregon Asa Lewelling Shedd Oregon A V Lewelling Shedd Oregon S W Smith Shedd Oregon
Last edit 8 months ago by
CM
1892
June 24
Martha Smith Corvallis Or Lizey Meranda Corvallis Or Charly Meranda Corvallis Or 103
June 26
Dr A G Smith & Wife Newport
June 27
W. J. Higby Harrisburg Ore. Mrs W. J. Higby Harrisburg Ore. Mrs. Lizza Barrett Tualatin Or Charles Hinderson Eddyville Ore. Mrs. McGiver Eddyville Ore. S. W. Edmiston Harrisburg Ore
June 28
G. W. Goff & Family of 5 Lebanon Or F. L. Noyes & Sister Independence Or. R. R. Emmons Bueno Vista Oregon George Scott and Wife Beung Vista Oregon [Bess or Boss] Culver Independence Oregon Willie Govro Lebanon Ore. Lillie M. Culver Independence Oregon Walter Govro Lebanon Oregon Mrs Lizzie Govro Lebanon Oregon J C. Pennington McMinnville Oregon Mrs J. C. Pennington McMinnville Oregon Brosia P. Pennington McMinnville Oregon Mae Booth Little Elk Oregon Laura H. Luckey Little Elk Oregon W. I. Govro Lebanon Oregon Jeffie fitzpatrick Newport Oregon Charlie Culver Independence Oregon Clarence C Culver Independence Oregon J. P. R. Fitzpatrick Big Creek Ore. Charley Hyde Henrey Meyer Dallas Mrs E J Meyer Dallas John Hyde Little Elk
Last edit 8 months ago by
CM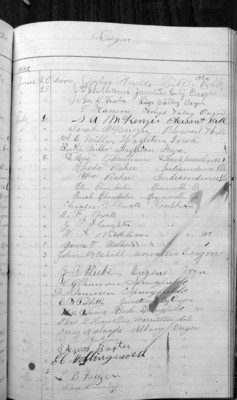 1892
June 28
Mrs John Hyde Little Elk 143
June 29
J T Williams Junction City Oregon Geo. K. Fowler Kings Valley Oregon C Hansen Kings Valley Oregon
July 1
S A McKenzie Pleasant Hill Sarah McKenzie Pleasant Hill A E Miller Hazelton Iowa Bertha Miller Hazelton Iowa
July 2
Avis Christian Independence Thoda Baker Independence Or Wm Baker Independence Or Ellen Chamberlin Monmouth Or Enoch Chamberlin Monmouth Or Charles B. Powell Woodburn S. F. Powell Woodburn G T Sloughter Woodburn W A Nickelson Woodburn 159
July 3
James T Walker John McCahill Corvallis Oregon J A Beebe Eugene Orgn C C Bowman Springfield G S Bowman Springfield E. N. Tibbetts Junction Cty. Oregon Miss Phenia Beebe Springfield 160 Thos D Hawkins Morrillton Ark Irene Neelands Albany Oregon C E Hawkins Albany Oregon Amos Baxter Albany Oregon E C Hollingsworth Albany Oregon L B Frazier Albany Oregon Dora Downing Albany Oregon
Last edit 8 months ago by
CM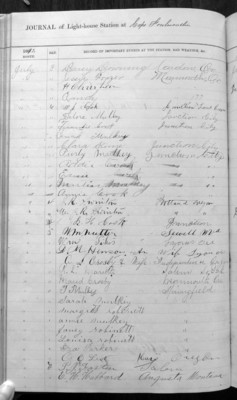 1892
July 3
Daisy Downing Condon Or. Jesie Frazer Monmouth, Or. H Christian Monmouth Or Emily Monmouth Or 177
July 4
M L Cook Junction [Land?] Oregon Flora Mulkey Junction City Oregon Frankie Cook Junction City Oregon Frank Mulkey Clara Kime Junction City Purly Mulkey Junction City Addie Cook Junction City Oregon Ednie Cook Junction City Oregon Martin Mulkey Junction City Oregon Annie Cook Junction City Oregon J. R. Swinton Portland Oregon Mrs. J. R. Swinton Portland Oregon [?] H. Cook Junction
July 5
W M Nutter Sewell WVa Wm [Titus? Titers?] Lyons Ore D. M. Henson And Wife Lyon S. Crosby & Wife Independence Oregon R. L. Mariette Salem So. Dak. Maud Crosby Monmouth Ore. T Mulkey Springfield Sarah Mulkey Springfield Margrett Robinett Springfield Annie Mulkey Springfield Faney Robinett Springfield Louisa Robinett Springfield Ira Parker Springfield O E Leet Moro Oregon
July 7
P. J. Fosters Salem E. H. Hubbard Augusta Montana
A.
Last edit 8 months ago by
CM
1892
July 7
E H Hubbard Ruthven Iowa Wm R Wakefield Portland Oregon
July 8
Cal. Wilson Aurora Nebr W R Blain Albany Or Mrs W. E. Beauchamp Gaston Or. Bessie Beauchamp Gaston Or. Martha Myers Portland Or Master [Dan Darr Dars?] 216
July 9
F J Knepper Portland Or Mrs F. J. Knepper Portland Or Mrs T. J. Warner Grundy Center Iowa Master Glenn Warner Grundy Center Iowa 5 [years?] Maude Harkleroad Newport Theresa Meyer Albany Frances Meyer Albany Amy Willis Plummer Corvallis Cora E. Fisher Corvallis Mamie Case Newport Cora Case Newport H. W. Thornton Danville Penn'a 228
July 10
Wm Taylor Robert White A E Porter L. A. White And one other Isaac Norton and wife & son Blodgett Orgon J B Putnam Salem A. G. Smith & wf MD Newport 239
July 12
S A Todd Champaign Ills. one other R. G. Junkin Philomath, Or. Farlow Mulkey Philomath, Or. L. M. Mulkey Philomath, Or. S. G. Elliott Aurora Mo. Mrs Flora E [Neice? Nuee?] Republic Mo. J B Putnam Salem
Last edit 8 months ago by
CM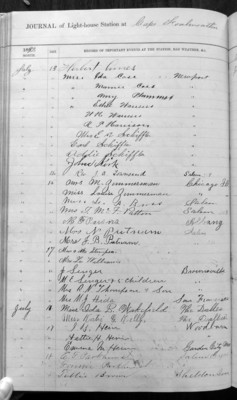 1892
July 13
Herbert Ames Miss Ida Case Newport Miss Mamie Case Newport Miss Amy Plummer Newport Miss Ethel Warrens Newport W H Warrens Newport R T Harrison Newport Mrs E. V. Schiffler Newport Carl Schiffler Newport Addie Schiffler Newport John Kirk Newport
July 14
Rev. J. A. Townsend Salem 259
July 15
Mrs M. Zimmerman Chicago Ill. Miss Louise Zimmerman Chicago Ill. Miss L. A. Buss Salem Mrs T. McF. Patton Salem 263 B F Parsons Albany Mrs B Putnam Salem
July 17 Mrs & Mr Stimpson Mrs Lee Williams J Singer Brownsville M E Singer & 5 children Brownsvills Mrs R. N. Thompson & Son Brownsville Mrs M. J. Hida San Francisco
July 16
Miss Ida B. Wakefield The Dalles Miss Katie G. Kelly The Dalles
July 17
J. B. Hein Woodburn Hattie H. Hein Woodburn Emma M. Hein Garden Dity Mo
July 18
E. F. Parkhurst Salem Oregon Fannie Parkhurst Salem Oregon Tillie Brown Sheldon Iowa
Last edit 8 months ago by
CM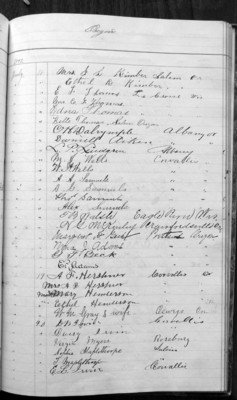 1892
July 18
Mrs J L Kimber Salem Or Ethel R Kimber Salem Or E F Thomas La Crosse Wis Mrs E. F. Thomas La Crosse Wis Edna Thomas La Crosse Wis Belle Thomas Salem Oregon C H Dalrymple Albany Or Dwinell Aiken Albany Or L. P. Lindgren Albany Or M. J. Wells Corvallis Or A. A. Samuels Corvallis Or A. G. Samuels Corvallis Or Thos Samuels Corvallis Or Alex. Samuels Corvallis Or T B Walsh Eagle River Wis. [H? V? N?] G McKinley Crawfordsville Ore. Margeret H. Beck Portland Oregon Nina J. Adams Portland Oregon G. F. Beck Portland Oregon E R Adams Portland Oregon
July 19
A F Hershner Corvallis Or Mrs A F Hershner Corvallis Or Miss Mary Henderson Corvallis Or Ethel Henderson Corvallis Or 312 W M. Gray & wife Oswego Ore 314
July 20
D B Irvin Corvallis Daisy Irvin Corvallis Virgia Myers Roseburg Sophia Maplethorpe Salem T Maplethorpe Salem E. L. Irvin Corvallis
Last edit 8 months ago by
CM