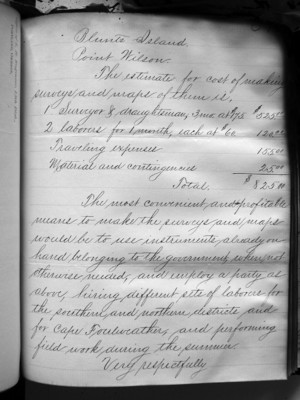 Blunt's Island. Point Wilson. The estimate for cost of making surveys and maps of them is, 1. Surveyor & draughtsman, 3 mo. at $175. $525.00 2. Laborers for 1 month, each at $60. 120.00 Traveling expenses 155.00 Material and contingencies 25.00 Total. $825.00
The most convenient and profitable means to make the survey and maps would be to use instruments already on hand belonging to the government, where not otherwise needed, and employ a party as above, hiring different sets of laborers for the southern and northern districts and for Cape Foulweather, and performing field work during the summer. Very respectfully
Last edit over 3 years ago by
Friends of Yaquina Lighthouses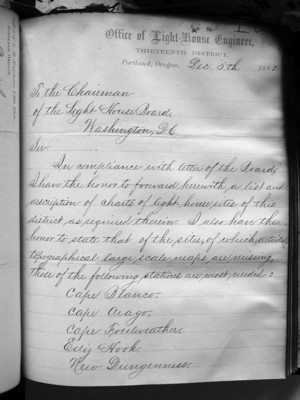 Office of Light-House Engineer, THIRTEENTH DISTRICT, Portland, Oregon, Dec. 5th, 1882
To the Chairman of the Light-House Board, Washington D.C.
Sir: In compliance with letter of the Board, I have the honor to forward herewith a list and description of charts of light-house sites of this district as required therein. I also have the honor to state that of the sites, of which detailed, topographical large scale maps are missing, those of the following stations are more needed: Cape Blanco. Cape Arago. Cape Foulweather. Ediz Hook. New Dungenness.
Last edit over 3 years ago by
Friends of Yaquina Lighthouses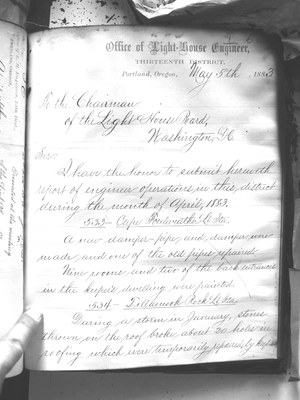 Office of Light-House Engineer, THIRTEENTH DISTRICT, Portland, Oregon, May 5th, 1883
To the Chairman Of the Light-House Board, Washington, DC. Sir: I have the honor to submit herewith report of engineer operations in this district during the month of April, 1883. 533- Cape Foulweather Lt. Sta. A new damper-pipe, and damper were made, and one of the old pipes repaired. Nine rooms, and two of the back entrances in the keeper's dwelling were painted. 534- Tillamook Rock Lt. Sta. During a storm in January, stones thrown on the roof broke about 20 holes in roofing which were temporarily repaired by keepers.
Last edit over 3 years ago by
Friends of Yaquina Lighthouses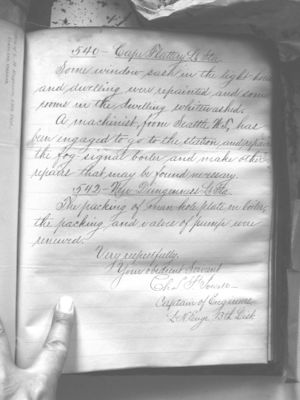 540- Cape Flattery Lt. Sta. Some window sash in the light-house and dwelling were repainted and some rooms in the dwelling whitewashed. A machinist, from Seattle, W.A, has been engaged to go to the station and repair the fog-signal boiler and make other repairs that may be found necessary. 542- New Dungenness Lt. Sta. The packing of man-hole plate in boiler, the packing and valves of pumps were received. Very respectfully, Your obedient Servant Chas F. Lowell Captain of Engineers L.H. Engr. 13th Dist.
Last edit over 3 years ago by
Friends of Yaquina Lighthouses