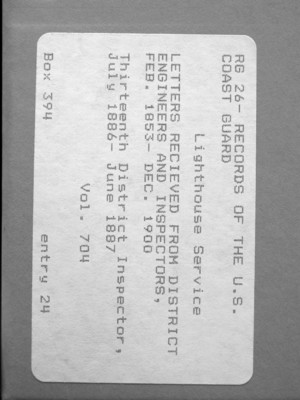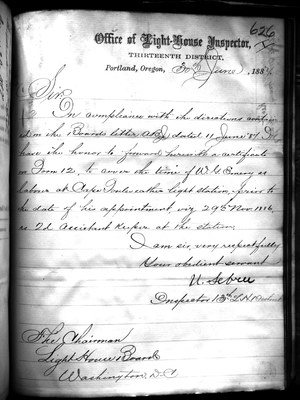 Office of Light-House Inspector, THIRTEENTH DISTRICT, Portland, Oregon, 30th June, 1887
Sir: In compliance with the directions contained in the Board's letter ???, dated 11 June '87. I have the honor to forward herewith a certificate on Form 12, to cover the time of W.G. Emery as laborer at Cape Foulweather light station, prior to the date of his appointment, viz 29th Nov. 1886, as 2d Assistant Keeper at the station. I am sir, very respectfully Your obedient servant U.Sebree Inspector 13th LH District
The Chairman Light House Board Washington, DC
Last edit about 3 years ago by
DonnaS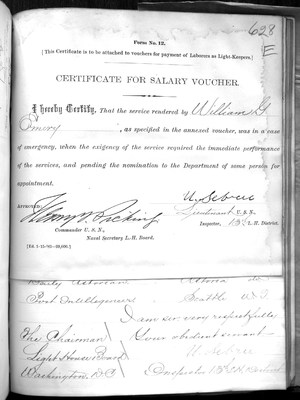 Form No. 12
(This Certificate is to be attached to vouchers for payment of Laborers as Light-Keepers.)
CERTIFICATE FOR SALARY VOUCHER
I hereby Certify, That the service rendered by William G Emery, as specified in the annexed voucher, as in a case of emergency, when the exigency of the service required the immediate performance of the services, and pending the nomination to the Department of some person for appointment.
(Signed) U. Sebree Lieutenant U.S.N., Inspector, 13th L.H. District
APPROVED: ??? Commander U.S.N., Naval Secretary L.H. Board.
[Ed. 1-15-'83--20,000]
Last edit about 3 years ago by
DonnaS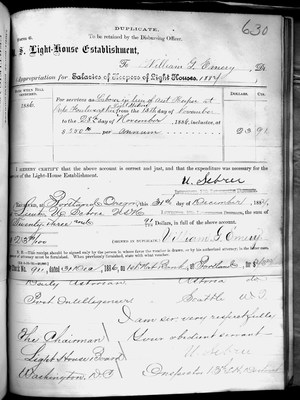 630 Duplicate To be retained by the Disbursing Officer
Form 6
US Light-House Establishment
To William G Emery
(Appropriation for Salaries of Keepers of Light Houses. 1884)
Date When Bill Rendered. 1886 For services as laborer in lieu of Asst Keeper at Cape Foulweather Light Station from the 13th day of November to the 28th day of November 1886, inclusive, at $550 # per Annum ----------
Dollars Cts 23 91
I HEREBY CERTIFY that the above account is correct and just, and that the expenditure was necessary for the service of the Light-House Establishment.
U. Sebrer Inspector 13th Lighthouse District
Received, at Portland Oregon this 31st day of December, 1884 Signed Lieut U Sebrer, USN Inspector 13th Lighthouse District, the sum of Twenty - Three and 91/100 Dollars in full of the above account.
$23 91/100 (Signed in Duplicate.) William G Emery
N.B. - This receipt should by signed only by the person in whose favor the voucher is drawn, or by his authorized attorney; in the latter case, power of attorney must be furnished. When previously furnished, state with what voucher. [Ed. 6_16_'81__20,000.]
by Check No. 911, dated 31 Dec, 1886 011 1st Nat Bank, at Portland for 43 23/100
Last edit over 2 years ago by
Ed