Search for "Hellen & Brumfield" Hellen* "Hellen Brumfield" "Hellen Brumfield"
1920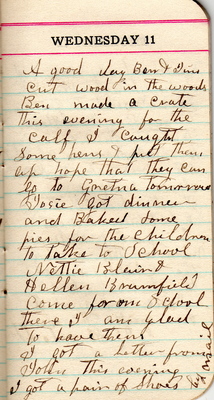 A good day. Ben & Jim cut wood in the woods. Ben made a crate this evening for the calf. I caught some hens & put them up. Hope that they can go to Gretna tomorrow. Josie got dinner and baked some pies for the children to take to school. Nettie Blair & Hellen Brumfield come [?] school there. I am glad to have them. I got a letter from John this evening. I got a pair of shoes by mail.
Last edit over 10 years ago by
Linda Tucker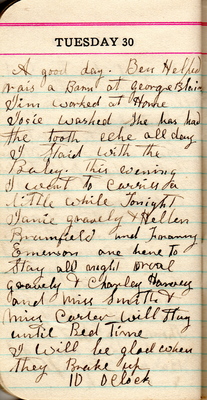 A good day. Ben helped rais a barn at George Blairs. Jim worked at home. Josie washed. She has had the tooth ache all day. I staid with the baby. This evening I went to Carries a little while. Tonight Janie Gravely & Hellen Brumfield and Franny Emerson are here to stay all night. Orval Gravely & Charley Harvey and Miss Smith & Miss Carter will stay until bed time. I will be glad when they brake up.
10 oclock
Last edit over 10 years ago by
Linda Tucker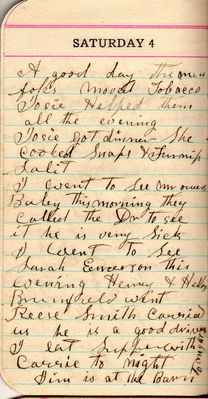 A good day. The men folks moved tobacco. Josie helped them all the evening. Josie got dinner. She cooked snaps and turnip salit. I went to see Mr Owens baby this morning. They called the Dr to see it. He is very sick. I went to see Sarah Emerson this evening. Henry & Hellen Brumfield went. Reese Smith carried us. He is a good driver. I eat supper with Carrie to night. Jim is at the barn tonight.
Last edit over 9 years ago by
Linda Tucker
1922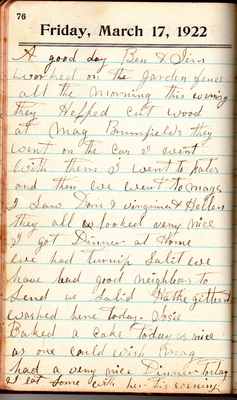 A good day. Ben & Jim worked on the garden fence all the morning. This evening they helped cut wood at Mag Brumfields. They went on the car. I went with them. I went to Kates and then we went to Mags. I saw Doris & Virginia & Hellen. They all looked very nice. I got dinner at home. We had turnip salit. We have had good neighbors to send us salid. Hattie Gilbert washed here today. Josie baked a cake today as nice as one could wish. Mag had a very nice dinner today. I eat some with her this evening.
Last edit about 6 years ago by
mkstewart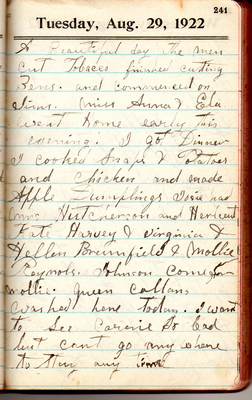 A beautiful day. The men cut tobacco. Finished cutting Ben's and commenced on Jim's. Miss and Ela went home early this evening. I got dinner. I cooked snaps & potatoes and chicken and made apple dumplings. Josie had Mrs Hutcherson and Herbert Kate Harvey & Virginia & Hellen Brumfield & Mollie Reynols. Johnson come for Mollie. Queen Callans washed here today. I want to see Carrie so bad but cant go any where to stay any time.
Last edit about 6 years ago by
mkstewart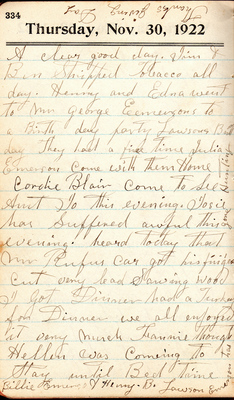 A clear good day. Jim & Ben stripped tobacco all day. Henry and Edna went to Mr George Eemersons to a birth day party. Lawsons birth day. They had a fine time. Julia Emerson come with them home. Cordie Blair come to see Aunt Jo this evening. Josie has suffered awful this evening. Heard today that Mr Rufus Car got his finger cut very bad sawing wood. I got dinner. Had a turkey for dinner. We all enjoyed it very much. Fannie thought Hellen was comeing to stay until bed time. Billie Emerson & Henry & B & Lawson Emerson has gone hunting.
Thanksgiving Day.
Last edit about 6 years ago by
mkstewart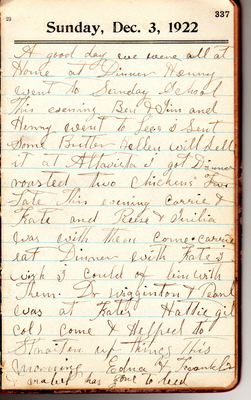 A good day. We were all at home at dinner. Henry went to Sunday School. This evening Ben & Jim and Henry went to Lees. I sent some butter. Hellen will sell it at Altavista. I got dinner. Roasted two chickens. Late this evening Carrie & Kate and Reese & [Juilia?] was with them come. Carrie eat dinner with Kate. I wish I could of bin with them. Dr Wigginton & Pearl was at Kates. Hattie gil[Gilbert?] col)[coloured girl]come & helped to straiten up things this morning. Edna & Franklin & Mabel has gone to bed.
Last edit about 6 years ago by
mkstewart
1923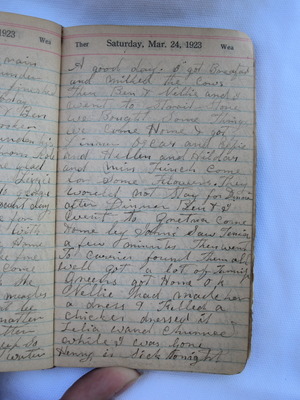 A good day. I got breakfast and milked the cows. Then Ben and Nellie and I went to Straitstone. We bought some things. We come home and I got dinner. Oscar and Effie and Hellen and Hilda and Miss Finch come for some flowers. They would not stay for dinner. After dinner Ben and I went to Gretna. Come home by Johns Saw Tenier a few minutes then went to Curries. Found them all well. Got a lot of turnip greens. Got home o.k. Nellie had made her a dress and killed a chicken. Dressed it. Lelia Ward churned while I was gone. Henry is sick tonight.
Last edit over 7 years ago by
Nathani
A clear morning. Cloudy this evening and rain tonight. Ben went to Gretna this evening with tobacco. Got home a while be fore night. Jim and John stripped all day. The children went to school. Mrs. Booker went to Lynch Burg yesterday. Come home this evening. Ray Booker come with Franklin home and staid until his mother got home. I have bin up all day but have not felt good all day. Ben got me a pair of shoes today. I got a card from Hellen Brumfield today wishing me a good Thanks giving day.
Last edit about 6 years ago by
Nathani