Search for "a show" "the show" "the show"
1918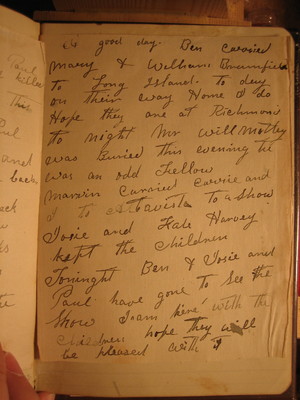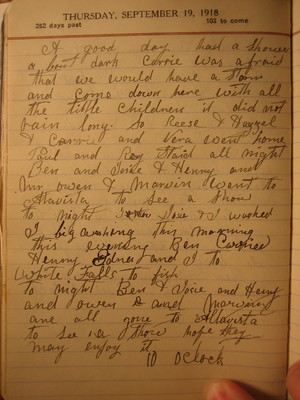 A good day. Had a shower a bout dark. Carrie was afraid that we would have a storm and come down here with all the little children. It did not rain long so Reese and Hazel and Carrie and Vera went home. Paul and Roy staid all night.
Ben and Josie and Henry and Mr Owen and Marvin went to Altavista to see a show to night. Josie and I washed a big washing this morning.
This evening Ben carried Henry Edna and I to White Falls to fish.
To night Ben and Josie and Henry and Owen and Marvin are all gone to Altavista to see a show. Hope they may enjoy it.
10 oclock
Last edit about 11 years ago by
Ben Brumfield
1919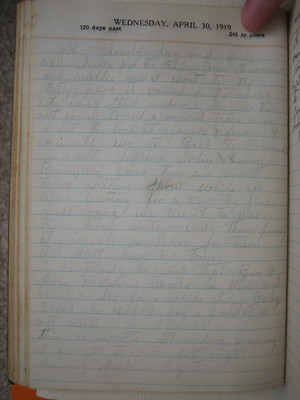 A cloudy day and some rain. Julia and the baby. Mrs Farmer and Mollie and I went to the citty park. It rained so that Julia & the baby staid under a shelter. The rest of us looked a round. There was a lot to look at. Fowls & flowers & animals. We got back to Howards and eat supper. John & Henry Brumfield come. Then we went to a picture show. While we were waiting for a car the fire bell rang. We went to see them throw water with their pump It is all a show for them that dont live in town. I certainly do wish that Ben & Josie & Carrie could be there and hear & see for a while. Julias baby cried a heap. I am a fraid it is not well.
This is wrote Thursday evening. I for got to write last night. Having such a big time.
Last edit about 11 years ago by
Ben Brumfield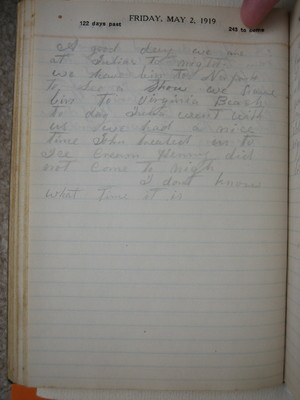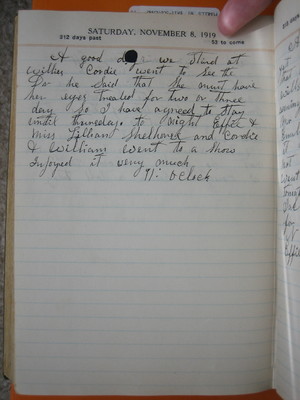 1921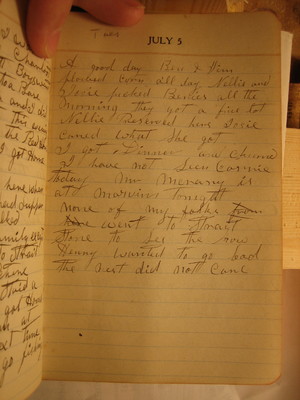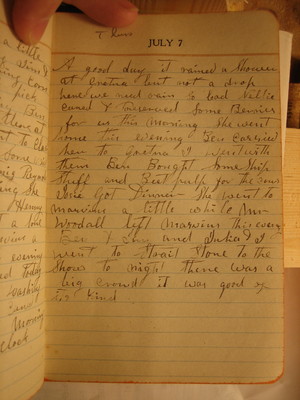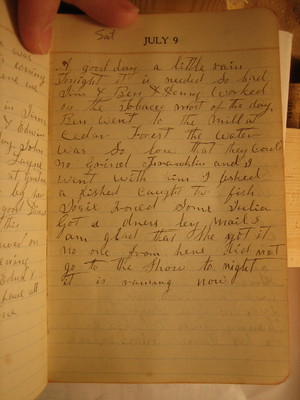 Last edit almost 7 years ago by
dy957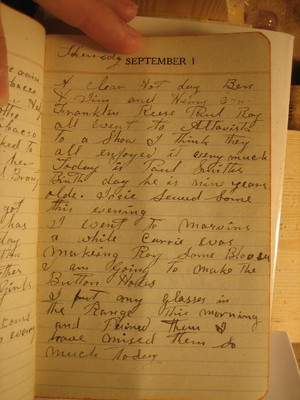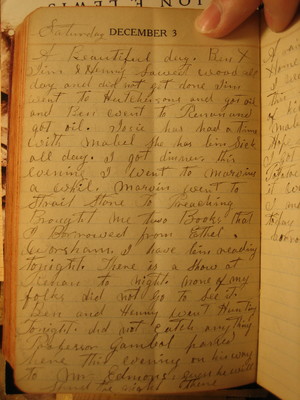 A beautiful day. Ben & Jim & Henry sawed wood all day and did not get done. Jim went to Hutchersons and got oil and Ben went to Renan and got oil. Josie has had a time with Mabel. She has bin sick all day. I got dinner. This evening I went to Marvins a whil. Marvin went to Strait Stone to preaching. Brought me two books that I borrowed from Ethel Worsham. I have bin reading tonight. There is a show at Renan to night. None of my folks did not go to see it. Ben and Henry went hunting tonight. Did not catch any thing. Professor Gambol passed here this evening on his way to Mr Edmons. Guess he will spend the night there.
Last edit almost 11 years ago by
Linda Tucker
1923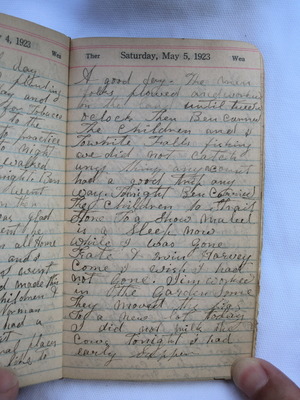 A good day. The men folks plowed and worked on the land until twelve oclock. Then Ben carried the children and I to White Falls fishing. We did not catch any thing any acount. Had a good trip any way. Tonight Ben carried the children to Strait Stone to a show. Mabel is a sleep now. While I was gone Kate and Irvin Harvey come. I wish I had not gone. Jim worked in the garden some. They moved the pigs to a new lot today. I did not milk the cows tonight. I had early supper.
Last edit about 7 years ago by
Nathani