Search for "a negro girl" "Bessie Callands (col)" "Bessie Callan (col)" "Bessie Callens (col)" "Bessie the colored girl" "Bessie (col)" "Bess (col)" "Bessie Callans (col)" Bessie*
1921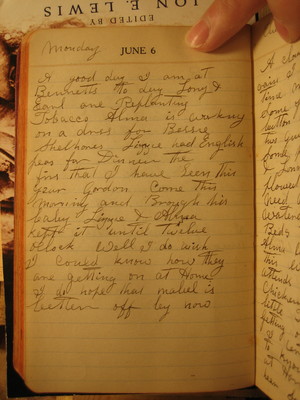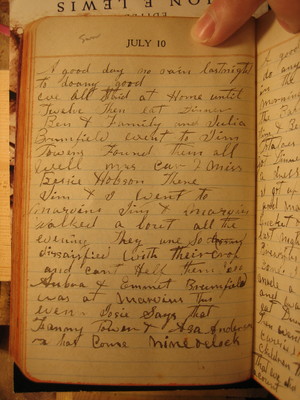 1922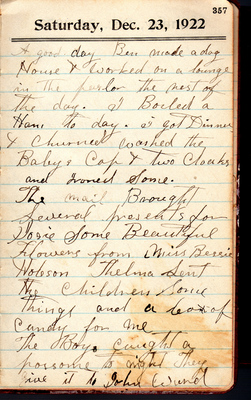 A good day. Ben made a dog house & worked on a lounge in the parlor the rest of the day. I boiled a ham to day. I got dinner & churned. Washed the babys cap & two cloaks and ironed some. The mail brought several presents for Josie from Miss Bessie Hobson. Thelma sent things and a box of candy for me. The boys caught a possome to night. They give it to John Ward.
Last edit about 6 years ago by
mkstewart
1923
A cloudy day and some rain. We have rain enough for now. They finished planted all the land they had fixed up and give some plants away. I am glad that they had them. We had fried chicken for dinner. The children caught them for me. Mr. Mayhew and two of his little boy helped plant some. Mr Les Booker come to Normans for plants. Plants is so hard to get this year. I am writing early to night. I got supper early as it was raining so that they could not work. Edna got a letter from Mrs Bessie Hobson to day. She said that Mary would graduate soon.
Last edit almost 7 years ago by
Nathani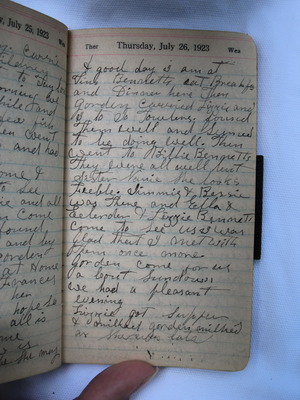 A good day. I am at Tim Bennetts. Eat breakfast and dinner here. Then Gorden carried Lizzie and I to Jo Towlers. Found them well and seemed to be doing well. Then went to Billie Bennetts. They were all well but Sister Nan[n]ie. She looks feeble. Jimmie and Bessie was there and Ella and Elender and Lizzie Bennett come to see us. I was glad that I met with them once more. Gordon come for us about sundown. We had a pleasant evening. Lizzie got supper and milked. Gordon milked as she was late.
Last edit over 6 years ago by
Nathani