Search for "the boy" Shirly*
1921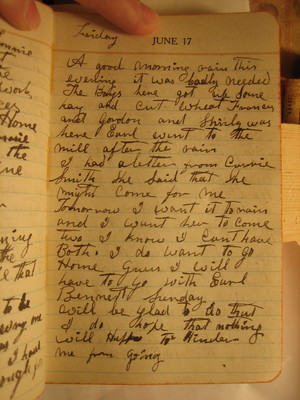 A good morning. Rain this evening. It was badly needed. The boys here got up some hay and cut wheat. Frances and Gordon and Shirly was here. Earl went to the mill after the rain.
I had a letter from Carrie Smith. She said that she might come for me tomorrow. I want it to rain and I want her to come two. I know I cant have both. I do want to go home. Guess I will have to go with Earl Bennett Sunday. Will be glad to do that.
I do hope that nothing will happen to hinder me from going.
Last edit over 8 years ago by
Ben Brumfield
1922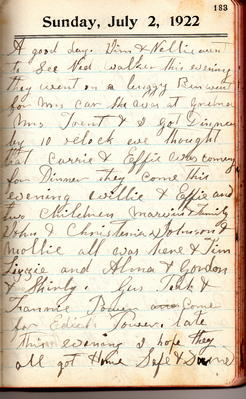 A good day. Jim & Nellie went to see Ned Walker this evening. They went on a buggy. Ben went for Mrs. Car. She was at [?] Mrs. Trent & I got dinner by 10 oclock. We thought that Carrie & Effie was coming for dinner. The come this evening. Willie & Effie and two children [?] & family [?] Mollie all was here & Jim Lizzie and Alma & Gordon & [Shirly?]. [?] Fannie [?] [?] come for Edieth. [?] late this evening. I hope they got home safe & sound.
Last edit almost 5 years ago by
gutterpeach2
1923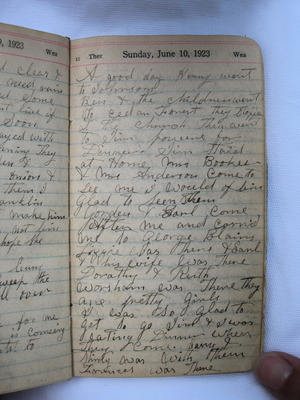 A good day. Henry went to Johnsons. Ben and the children went to Cedar Forest. They stoppe at the church. Then went to Jim Powers for dinner. Jim staid at home. Mrs. Booker and Mrs Anderson come to see me. I would of bin glad to seen them. Gordon and Earl come after me and carried me to George Blains. Lizzie was there and Earl and his wife was there. Dorathy and Ruth Worshan was there. They are pretty girls. I was so glad to get to go. Jim and I was eating dinner when they come. Cary and Shirly was with them. Frances was there.
Last edit over 5 years ago by
Nathani