About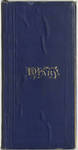 A collection of diaries and reminiscences from Sandy Spring community members. As you explore you'll find travel logs and ledgers, childhood memories and daily activities, some dating as early as 1823.
Works
First edition of the book, "Domestic cookery, useful receipts, and hints to young Hyusekeepers"by Elizabeth Ellicott Lea of Sandy Spring, Maryland . Published in 1845 by H. Colburn, Bookseller of Baltimore, Maryland, this book contains a variety of culinary and household recipes as well as...
192 pages: 7% transcribed
Bound notebook belonging to Arthur Stabler of Sandy Spring, Maryland with handwritten, miscellaneous, personal and agricultural notes especially for farm laborers and tenant Eli Bidwell (Biddle). Records date from 1864 to 1874.
59 pages: 66% transcribed, 34% needs review
Original, bound diary of Robert Hartshorne Miller recording daily activities as a young man.
212 pages: 31% transcribed, 14% needs review
Original, bound diary of William W. Moore used from January to December 1916 to record daily activities largely related to farm enterprises including a daily record of farm staff. Social visits and various personal matters also recorded.
362 pages: 4% transcribed, 6% needs review