About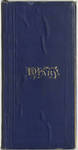 A collection of diaries and reminiscences from Sandy Spring community members. As you explore you'll find travel logs and ledgers, childhood memories and daily activities, some dating as early as 1823.
Works
Bound notebook belonging to Arthur Stabler of Sandy Spring, Maryland with handwritten, miscellaneous, personal and agricultural notes especially for farm laborers and tenant Eli Bidwell (Biddle). Records date from 1864 to 1874.
59 pages: 7% transcribed, 2% needs review
Notebook with handwritten reminiscences of Helen Bentley Lea of Sandy Spring, Maryland recounting people and events from her childhood through to her marriage to Henry Tyson Lea on June 6, 1878.
46 pages: 24% transcribed, 76% needs review
Travel diary kept by D. (Deborah) Stabler of Sandy Spring, Maryland during a two-month overland journey visit to Clearfield, Pennsylvania in June & July, 1823.
45 pages: 58% transcribed, 29% needs review