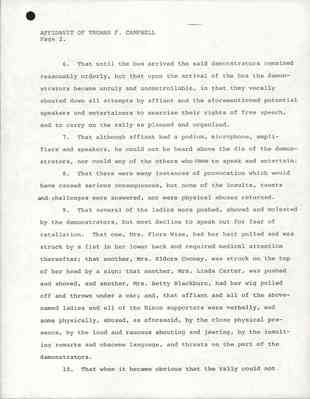 AFFIDAVIT OF TRUMAN F. CAMPBELL Page 2.
6. That until the bus arrived the said demonstrators remained reasonably orderly, but that upon the arrival of the bus the demonstrators became unruly and uncontrollable, in that they vocally shouted down all attempts by affiant and the aforementioned potential speakers and entertainers to exercise their rights of free speech, and to carry on the rally as planned and organized.
7. That although affiant had a podium, microphone, amplifiers and speakers, he could not be heard above the din of the demonstrators, nor could any of the others who came to speak and entertain.
8. That there were many instances of provocation which would have caused serious consequences, but none of the insults, taunts and challenges were answered, nor were physical abuses returned.
9. That several of the ladies were pushed, shoved and molested by the demonstrators, but most decline to speak out for fear of retaliation. That one, Mrs. Flora Wise, had her hair pulled and was struck by a fist in her lower back and required medical attention thereafter; that another, Mrs. Eldora Cooney, was struck on the top of her head by a sign; that another, Mrs. Linda Carter, was pushed and shoved, and another, Mrs. Betty Blackburn, had her wig pulled off and thrown under a car; and, that affiant and all of the abovenamed ladies and all of the Nixon supporters were verbally, and some physically, abused, as aforesaid, by the close physical presence, by the loud and raucous shouting and jeering, by the insulting remarks and obscene language, and threats on the part of the demonstrators.
10. That when it became obvious that the rally could not
Last edit 3 months ago by
Jannyp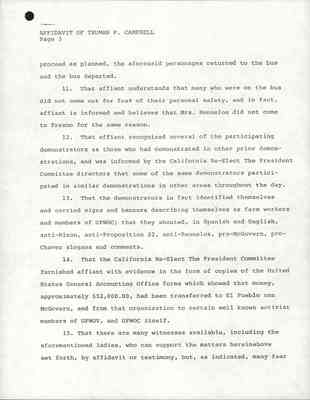 AFFIDAVIT OF TRUMAN F. CAMPBELL Page 3
proceed as planned, the aforesaid personages returned to the bus and the bus departed.
11. That affiant understands that many who were on the bus did not come out for fear of their personal safety, and in fact, affiant is informed and believes that Mrs. Banuelos did not come to Fresno for the same reason.
12. That affiant recognized several of the participating demonstrators as those who had demonstrated in other prior demonstrations, and was informed by the California Re-Elect The President Committee directors that some of the same demonstrators participated in similar demonstrations in other areas throughout the day.
13. That the demonstrators in fact identified themselves and carried signs and banners describing themselves as farm workers and members of UFWOC; that they shouted, in Spanish and English, anti-Nixon, anti-Proposition 22, anit-Banuelos, pro-McGovern, proChavez slogans and comments.
14. That the California Re-Elect The President Committee furnished affiant with evidence in the form of copies of the United States General Accounting Office forms which showed that money, approximately $52,000.00, had been transferred to El Pueblo con McGovern, and from that organization to certain well known activist members of UFWOV, and UFWOC itself.
15. That there are many witnesses available, including the aforementioned ladies, who can support the matters hereinabove set forth, by affidavit or testimony, but, as indicated, many fear
Last edit 3 months ago by
Jannyp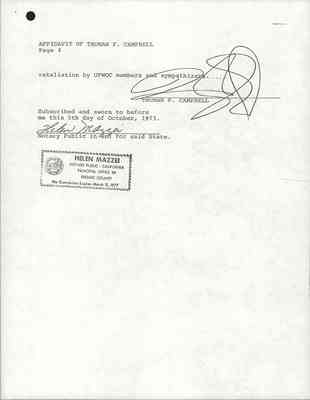 AFFIDAVIT OF TRUMAN F. CAMPBELL Page 4
retaliation by UFWOC members and sympathizers.
TRUMAN F. CAMPBELL
by UFWOC members
Subscribed and sworn to before me this 5th day of October, 1973.
Helen Mazzei Notary Public in and for said State.
[stamp: HELEN MAZZEI NOTARY PUBLIC - CALIFORNIA PRINCIPAL OFFICE IN FRESNOCOUNTY My Commission Expires March 11, 1977]
Last edit 3 months ago by
Jannyp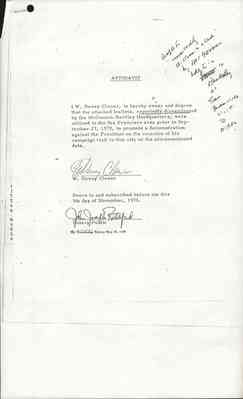 leaflets "reportedly disseminated by McGovern [?????]" Berkeley at San Francisco visit of Nixon
AFFIDAVIT
I W. Dewey Clower, to hereby swear and depose that the attached leaflets, reportedly disseminated by the McGovern-Berkley Headquarters, were utilized in the San Francisco area prior to September 27, 1972, to promote a demonstration against the President on the occasion of his campaign visit to that city on the aforementioned date.
W. Dewey Clower
Sworn to and subscribed before me this 5th day of November, 1973.
(John Joseph Ratieford) Notary Public
My Commission Expires May 31, 1978
Last edit 13 days ago by
mjmhanson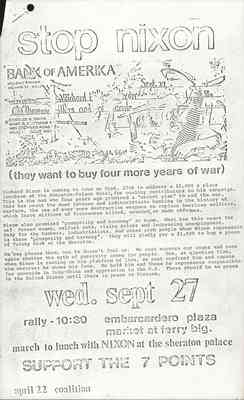 stop nixon
[drawn as cheque with drawing of a soldier: BANK OF AMERIKA MILLDALE BRANCH 300 MAIN ST. MILLDALE CALIF 50054 Sept. 27 197[?]
PAY TO THE [??] Richard Milhouse Nixon One thousand dollars and [??] cents CHARLES R. SMITH MARY D S 1401 ORCHARD ROAD MILL[??] CALIF. 9005?]
(they want to buy four more years of war)
Richard Nixon is coming to town on Sept. 27th to address a $1,000 a plate luncheon at the Sheraton-Palace Hotel, for wealthy contributors to his campaign. This is the man who four years ago promised a "secret plan" to end the war. This has meant the most intense and indiscriminate bombing in the history of warfare, the use of ever more destructive weapons to replace American soldiers, which leave millions of Vietnamese killed, wounded, or made refugees.
Nixon also promised "prosperity and harmony" at home. What has this meant for us? Frozen wages, welfare cuts, rising prices and increasing unemployment. Only for the bankers, industrialists, and other rich people whom Nixon represents is there "prosperity and harmony". They will gladly pay a $1,000 to buy a piece of Tricky Dicky at the Sheraton.
He may please them, but he doesn't fool us. We must express our anger and once again shatter the myth of passivity among the people. Now, at election time, when Nixon is running on his platform of lies, we must confront him and expose him wherever he shows his face. We hold him and those he represents responsible for genocide in Indo-China and oppression in the U.S. There should be no peace in the United States until there is peace in Vietnam.
wed. sept 27 rally - 10:30 embarcardero plaza market at ferry big.
march to lunch with NIXON at the sheraton palace SUPPORT THE 7 POINTS
april 22 coalition
Last edit 3 months ago by
Jannyp
Displaying Page 11 - 15 of 64 in total