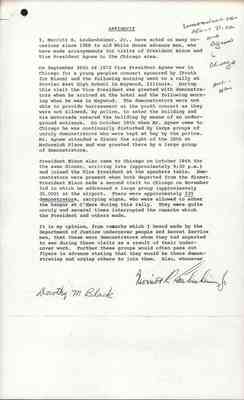 Demonstraions against Nixon and Agnew in Chicago anti-war
AFFIDAVIT
I. Merritt R. Laubenheimer, Jr., have acted on many occassions since 1968 to aid White House advance men, who have made arrangements for visits of President Nixon and Vice President Agnew to the Chicago area.
On September 26th of 1972 Vice President Agnew was in Chicago for a young peoples concert sponsored by (Youth for Nixon) and the following morning went to a rally at Proviso East High School in Maywood, Illinois. During this visit the Vice President was greeted with demonstrators when he arrived at the hotel and the following morning when he was in Maywood. The demonstrators were not able to provide harrassment at the youth concert as they were not allowed, by police, to enter the building and his motorcade entered the building by means of an underground entrance. On October 18th when Mr. Agnew came to Chicago he was continually disturbed by large groups of unruly demonstrators who were kept at bay by the police. Mr. Agnew attended a dinner the night of the 18th at McCormick Place and was greeted there by a large group of demonstrators.
President Nixon also came to Chicago on October 18th for the same dinner, arriving late (approximately 9:30 p.m.) and joined the Vice President at the speakers table. Demonstrators were present when both departed from the dinner. President Nixon made a second visit to Chicago on November 3rd in which he addresses a large group (approximately 20,000) at the airport. There were approximately 125 demonstrators, carrying signs, who were allowed to enter the hangar at O'Hare during this rally. THey were quite unruly and several times interrupted the remarks which the President and others made.
It is my opinion, from remarks which I heard made by the Department of Justice undercover people and Secret Service men, that these were demonstrators whom they had expected to see during these visits as a result of their undercover work. Further these groups would often pass out flyers in advance stating that they would be there demonstrating and urging others to join them. Also, whenever
Merritt R. Laubenheimer, Jr.
Dorothy M. Black
Last edit about 2 months ago by
charlie_chapman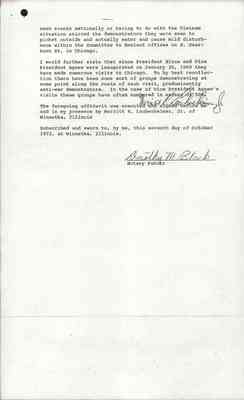 news events nationally or having to do with the Vietnam situation stirred the demonstrators they were seen to picket outside and actually enter and cause mild disturbance within the Committee to Reelect offices of S. Dearborn St. in Chicago.
I would further state that since President Nixon and Vice President Agnew were inagurated on January 20, 1969 they have made numerous visits to Chicago. To my best recollection there have been some sort of groups demonstrating at some point along the route of each visit, predominately anti-war demostrators. In the case of the Vice President Agnew's visits these groups have often numbered in excess of 500.
Merritt R. Laubenheimer, Jr.
The foregoing affidavit was executed and signed before me and in my presence by Merritt R. Laubenheimer, Jr. of Winnetka, Illinois.
Subscribed and sworn to, by me, this seventh day of October 1973, at Winnetka, Illinois.
Dorothy M. Black Notary Public
Last edit about 2 months ago by
charlie_chapman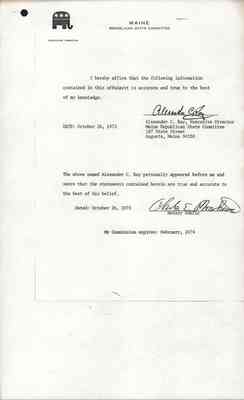 MAINE REPUBLICAN STATE COMMITTEE
EXECUTIVE DIRECTOR
I hearby affirm that the following information contained in this affidavit is accurate and true to the best of my knowledge.
DATE: October 26, 1973
Alexander C. Ray Alexander C. Ray, Executive Director Main Republican State Committee 187 State Street Augusta, Maine 04330
The above named Alexander C. Ray personally appeared before me and swore the statements contained herein are true and accurate to the best of his belief.
Dated: October 26, 1973
Charles E [Morsheoz?]
My Commission expires: February, 1974
Last edit about 2 months ago by
charlie_chapman
Displaying Page 36 - 40 of 64 in total