3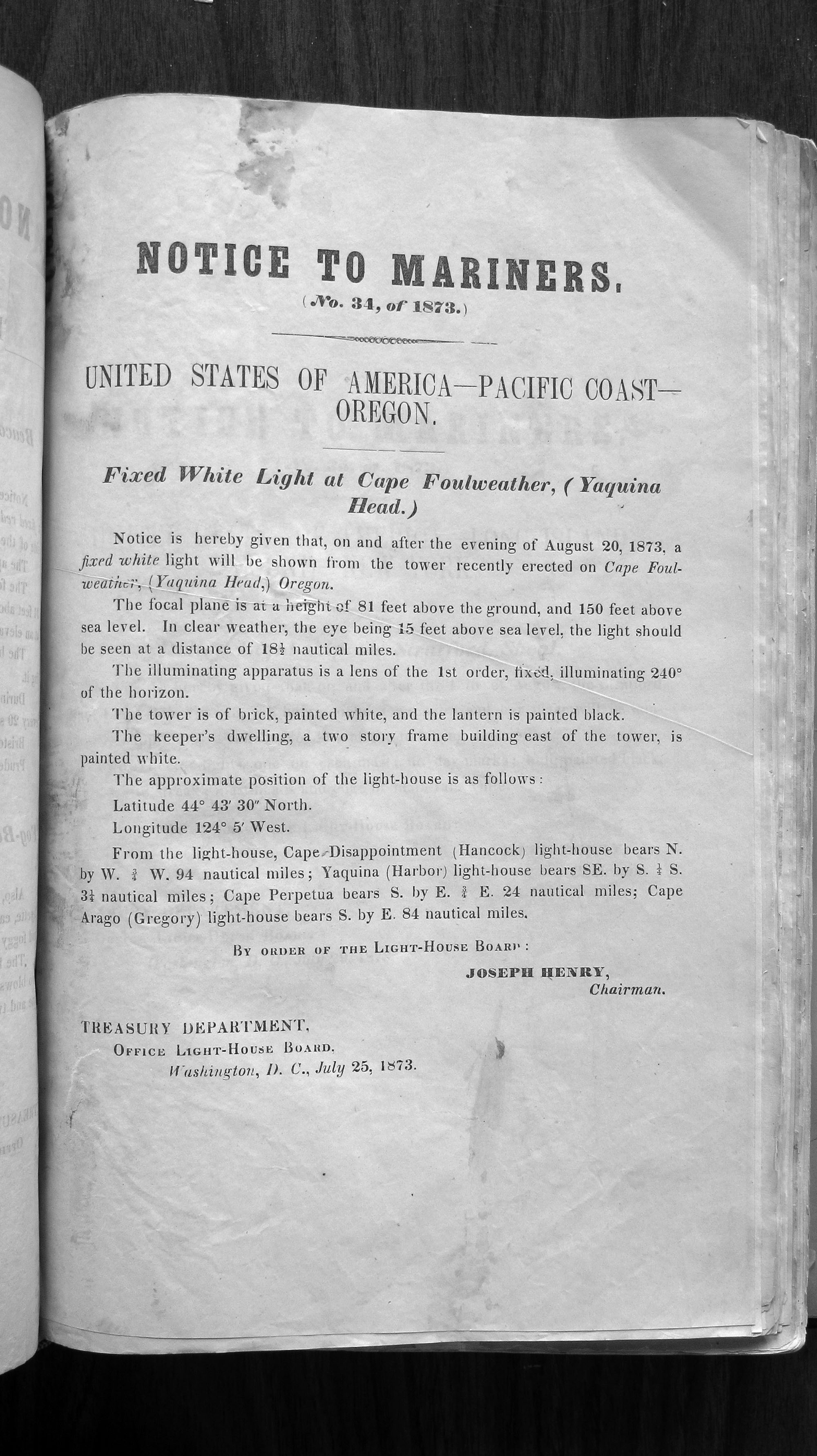 Notice to Mariners
No. 34, of 1873

United States of America - Pacific Coast - Oregon

Fixed White Light at Cape Foulweather, (Yaquina Head)

Notice is hereby given that, on and after the evening of August 20, 1873, a fixed white light will be shown from the tower recently erected on Cape Foulweather, (Yaquina Head,) Oregon.

The focal plane is at a height of 81 feet above the ground and 150 feet above sea level. In clear weather, the eye being 15 feet above sea level, the light should be seen at a distance of 18 1/2 nautical miles.

The illuminating apparatus is a lens of the 1st order, fixed, illuminating 240 degrees of the horizon.

The tower is of brick, painted white, and the lantern is painted black.

The keeper's dwelling, a two story frame building east of the tower, is painted white.

The approximate position of the light-house is as follows:

Latitude 44 degrees 43' 30" North
Longitude 124 degrees 5' West

From the light-house, Cape Disappointment (Hancock) light-house bears N. by W. 3/4 W. 94 nautical miles; Yaquina (Harbor) light-house bears S.E. by S. 1/4 S. 3 1/4 nautical miles; Cape Perpetua bears S. by E. 3/4 E. 24 nautical miles; Cape Arago (Gregory) light-house bears S. by E. 84 nautical miles.

By order of the Light-House Board:

Joseph Henry,
Chairman

Treasury Department
Office Light-House board,
Washington, D.C., July 25, 1873
Page Notes
Nobody has written a note for this page yet
Please sign in to write a note for this page