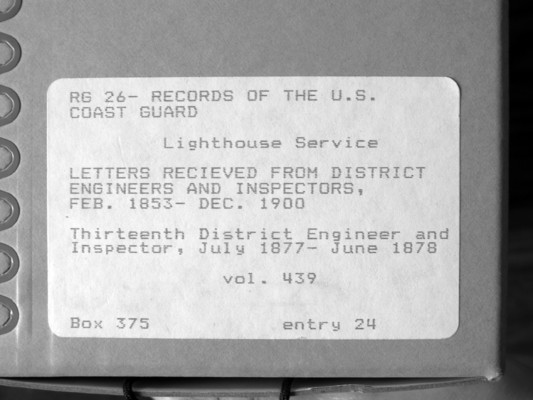 RG 26- RECORDS OF THE U.S COAST GUARD
Lighthouse Service
LETTERS RECEIVED FROM DISTRICT ENGINEERS AND INSPECTORS, FEB. 1853- DEC. 1900
Thirteenth District Engineer and Inspector, July 1877- June 1878
vol. 439
Box 375
entry 24
Last edit over 3 years ago by
bluemermaid68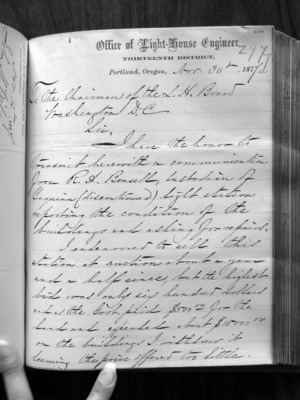 Office of Light-House Engineer,
THIRTEENTH DISTRICT,
Portland, Oregon, Nov.??? 30th, 1874.???
To the Chairman of the L. H. Board Washington D.C.
Sir;
I have the honor to transmit herewith a communication from R. A. Bensell, Custodian of Yaquina (discontinued) light station reporting the condition of the building and asking for repairs.
I endeavored to sell this station at auction about a year and a half since, but the highest bid was only six hundred dollars and as the Govt. paid $500.00 for the land and expended about $15000.00 on the buildings I withdrew it deeming the The price offered too little.
Last edit over 3 years ago by
Friends of Yaquina Lighthouses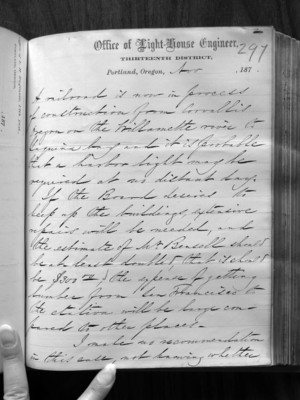 Office of Light-House Engineer, Thirteenth district, Portland, Oregon, ??? 187
A railroad is now in process of construction from Corvallis Oregon on the Willamette River to Yaquina bay and it is probable that a harbor light may be required at no??? distant day. If the board desires to keep up the buildings, extensive repairs will be needed, and the estimate of W. Bensell should be at least doubled, that is should be $300.00; the expense of getting lumber from San Francisco to the station will be large compared to other places.
I make no recommendation in this case, not knowing whether
Last edit over 3 years ago by
Wjhoward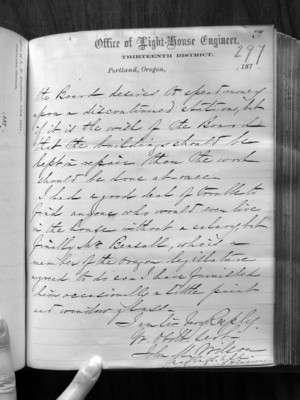 Office of Light-House Engineer, Thirteenth district, 297 Portland, Oregon, , 187 .
the Board desires to spend money upon a discontinued station, but if it is the wish of the Board that the buildings should be kept in repair then the work should be done at once.
I had a good deal of trouble to find anyone who would even live in the house without a salary, but finally W. Bensell, who is a member of the Oregon legislature agreed to do as I have furnished him occasionally a little Paint and window glass.
I am Sir??? very reply. ??? John M. Nilson ???
Last edit over 3 years ago by
Wjhoward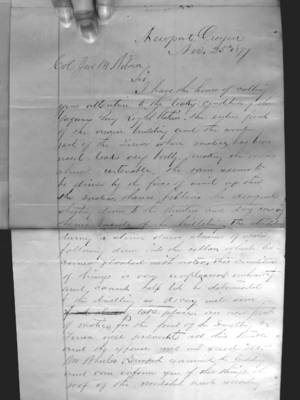 Col Jno ?? M. Wilson
Sir
I have the honor of calling your attention to the leaky condition of the Yaquina Bay Light Station. The entire front of the main building and the wooden?? part of the lower where austice ?? has been used leaks very badly making the rooms almost untenable. The rain seems to be driven by the force of wind up into the sustic ??, thence follows the diagonal sheeting down to the window and dowcaesy?? thence inside of the building, the studdey ?? during a storm shows streams of water following down into the cellar which becomes flooded with water. This condition of things is very unpleasant unhealthy and cannot help but be detrimental to the dwelling as decay will soon take place An new finish ?? of rustic ??? for the front of the dwelling If Luren ?? will prevent all this ??? and the expense will not exceed $150.00. Mr. Wheeler Lampest ??? examined the building and can inform you of these things. The roof of the woodshed needs renailing
Last edit over 3 years ago by
Wjhoward