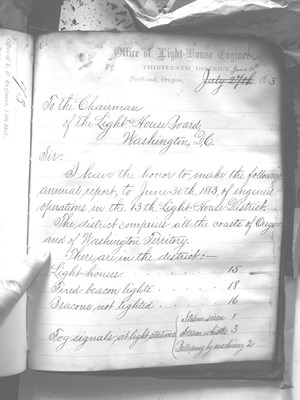 Office of Light-House Engineer, THIRTEENTH DISTRICT, Portland, Oregon, July 27th June 30th, 1883 To the Chairman Of the Light-House Board, Washington, D.C. Sir: I have the honor to make the following annual report, to June 30th, 1883, of engineer operations in the 13th Light-House District. The district comprises all the coasts of Oregon and of Washington Territory. There are in the districts:-- Light-houses. . . . . . . 15 Fixed beacon lights . . . . . 18 Beacons not lights . . . . . 16 Fog-signals at light stations Steam siren 1 Steam whistles 3 Bells rung by machinery 2
Last edit over 3 years ago by
Friends of Yaquina Lighthouses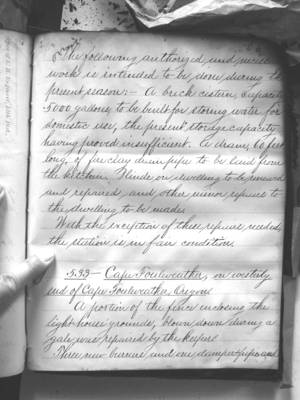 The following authority and necessary work is intended to be done during the present season:- A brick cistern, capacity 5000 gallons, to be built for storing water for domestic use, the present storage capacity having proved insufficient. A drain, 60 feet long, of fire clay drum pipe to be laid from the kitchen. Blinds on dwelling to be renewed and repaired and other minor repairs to the dwelling to be made. With the exception of these, repairs needed, the station is in fair condition.
533- Cape Foulweather, on westerly end of Cape Foulweather, Oregon. A portion of the fence enclosing the light-house grounds, blown down during a gale was repaired by the keeper. Three new burners and one damper + pipe and
Last edit over 3 years ago by
Friends of Yaquina Lighthouses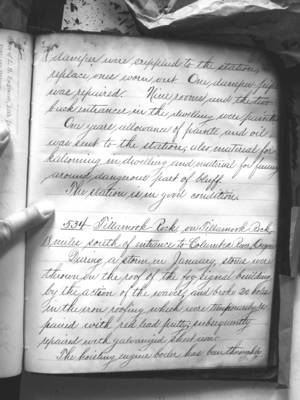 damper were supplied to the station, to replace ones worn out. One, damper-pipe was repaired. Nine rooms and the two back entrances in the dwelling were painted. One years allowance of paints and oil was sent to the station; also material for kalsoming in dwelling and material for fencing around dangerous part of bluff. The station is in good condition.
534-Tillamook Rock on Tillamook Rock, 18 miles south of entrance to Columbia River, Oregon During a storm on January, stones were thrown on the roof of the fog-signal building by the action of the waves, and broke 20 holes in the iron roofing which were temporarily repaired with red lead putty; subsequently repaired with galvanized sheet iron. the hoisting engine boiler has been thoroughly
Last edit over 3 years ago by
Friends of Yaquina Lighthouses