Vol 348 Engineer Reports 13th Dist. 1873 and 1874 CF Exhibted YB Discontinued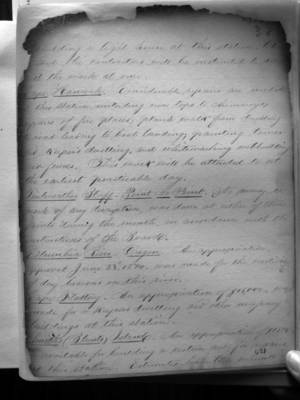 building a light house at this station. The ??? received the contractors will be instructed to ??? with the work at once. Cape Hancock. Considerable repairs are need at this station, including iron tops to chimneys; repairs of fire places; plank wall from dwelling to road leading to boat landing; painting tower and Keeper's dwelling, and whitewashing outbuilding, and fences. This work will be attended to at the earliest practicable day. Foulweather Bluff-Point No Point. No survey, or work of any description, was don't at either of these points during the month, in accordance with the instructions of the Board. Columbia River – Oregon. An appropriation approved June 23rd, 1874, was made for the erection of day beacons on this river. Cape Flattery. An appropriation of $1500 is available for building a custom and for repairs at this station. Lanitis??? (Blunts) Island. An appropriation of $1500 is available for building as cistern and for repairs at this station. Estimates have been submitted.
Last edit over 3 years ago by
Wjhoward
YH LH location and building Vol. 311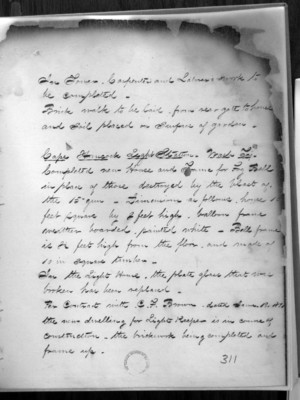 In tower, Carpenter's and Laborer's work to be completed -
Brick walk to be laid from rear gate to house and soil placed on surface of garden.
Cape Hancock Light Station. Wash Ty.
Completed new house and frame for fog bell in place of those destroyed by the blast of the 15" gun - Dimensions as follows. House 10 feet square by 8 feet high. Balloon frame weather boarded, painted white. Bell frame is 8 1/2 feet high from the floor and made of 10 in square timber.
In the Light House the plate glass that was broken has been replaced.
Per contract with C.F. Brown dated June 19, 1871, the new dwelling for light keeper is in course of construction, the brickwork being completed and frame up.
311
Last edit over 1 year ago by
DReade
1870-73 Lighthouse Board Annual Reports