Coast Guard District narrative histories 1945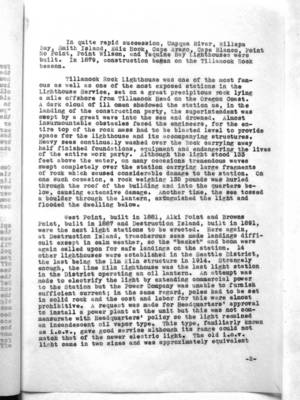 In the quite rapid succession, Umpqua River, Willapa Bay, Smith Island, Ediz Hook, Cape Arago, Cape Blanco, Point No Point, Point Wilson, and Yaquina Bay Lighthouses were built. In 1879, construction began on the Tillamook Rock Beacon.
Tillamook Rock Lighthouse was one of the most famous as well as one of the most exposed stations in the Lighthouse Service, set on a great precipitous rock lying a mile offshore from Tillamook Head on the Oregon Coast. A dark cloud of ill omen shadowed the station as, in the landing of the construction party, the superintendent was swept by a great wave into the sea and drowned. Almost insurmountable obstacles faced the engineers, for the entire top of the rock mass had to be blasted level to provide space for the lighthouse and its accompanying structures. Heavy seas continually washed over the Rock carrying away half finished foundations, equipment and endangering the lives of the entire work party. Although the light stood 133 feet above the water, on many occasions tremendous waves swept completely over the station carrying large fragments of rock which caused considerable damage to the station. On one such occasion, a rock weighting 135 pounds was hurled through the roof of the building and into the quarters below, causing extensive damage. Another time, the sea tossed a boulder through the lantern, extinguished the light and flooded the dwelling below.
West Point, built in 1881, Alki Point and Brown Point, built in 1887 and Destruction Island, built in 1891, were the next light stations to be erected. Here again, at Destruction Island, treacherous seas made landings difficult except in calm weather, so the "basket" and boom were again called upon for safe landings on the station. 14 other lighthouses were established in the Seattle District, the last being the Lim Kiln structure in 1914. Strangely enough, the Lime Kiln Lighthouse was the last light station in the District operating an oil lantern. An attempt was made to electrify the light by extending commercial power to the Station but the Power Company was unable to furnish sufficient current; in the same regard, poles had to be set in a solid rock and the cost and labor for this were almost prohibitive. A request was made for Headquarters' approval to install a power plant at the unit but this was not commensurate with Headquarters' policy so the light remained an incandescent oil vapor type. This type, familiarly known as i.o.v., gave good service although its range could not match that of the newer electric light. The old i.o.v. light came in two sizes and was approximately equivalent
-2-
Last edit over 3 years ago by
Wjhoward