1870-73 Lighthouse Board Annual Reports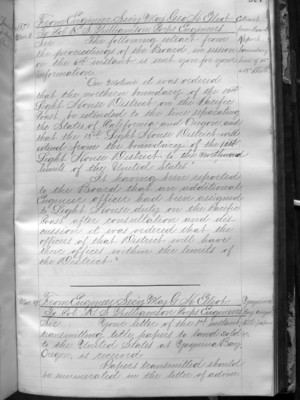 (SIDE BAR) Extract from Board Report boundary line 12"&12" dis ts.
1871 Mar. 8 From Engineer Secy Maj. Geo. H. Elliot To Col. R. S. Williamson Corps Engineers The following extract from the proceedings of the Board in session on the 6th instant is sent you for your information. On notion it was ordered that the northern boundary of the 12th Light-House District on the Pacific Coast be extended to the line separating the States of California and Oregon and that the 13th Light House District will extend from the boundary of the 12th Light House District to the Northern limits of the United States. It having been reported to the Board that an additional Engineer officer had been assigned to Light House duty on the Pacific Coast after consultation and discussion it was ordered that the officers of that District will have their offices within the limits of the District.
Mar 9 From Engineer Secy Maj. G.H. Elliot To Col R. S. Williamson Corps Engineers Sir: Your letter of the 1st instant transmitting title papers to land sold to the United States at Yaquina Bay, Oregon is received. Papers transmitted should be enumerated on the letter of advice
(SIDE BAR) Yaquina Bay Oregon title papers
Last edit almost 3 years ago by
gkazebier