About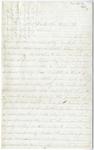 The Robinson Family letters from Rokeby Museum represent several generations of Quaker families in Vermont, especially the Robinsons - a family of farmers, abolitionists, artists, and authors whose home in Ferrisburgh is now a National Historic Landmark and one of the best-documented Underground Railroad sites in the country.
The letters concern personal, farming, and business matters relating to the various families, and major political and social issues of their times, including abolitionism, the Civil War, temperance, women's rights, education and controversies within the Quaker faith, including the Hicksite movement. Letters' topics include the literary and artistic careers of Rowland E. Robinson (1833-1900) and his daughters, Rachael (Robinson) Elmer (1878-1919) and Mary (Robinson) Perkins (1884-1931). Local politics and economic affairs of Ferrisburgh, whose town clerks from 1857 to 1962 were members of the Robinson family, are also part of the collection.
Works
5 pages: 0% indexed, 0% transcribed, 80% needs review
6 pages: 17% indexed, 33% transcribed, 33% needs review
2 pages: 0% indexed, 50% transcribed, 50% needs review
4 pages: 25% indexed, 75% transcribed, 25% needs review
Letter written by Aaron N. Freeman to George Gilpin Robinson, dated April 5, 1864. This is a scanned version of the original image in Special Collections and Archives at Middlebury College, Middlebury, Vt.
3 pages: 0% indexed, 67% transcribed, 33% needs review
2 pages: 0% indexed, 50% transcribed, 50% needs review
3 pages: 0% indexed, 0% transcribed
2 pages: 0% indexed, 50% transcribed, 50% needs review
6 pages: 0% indexed, 0% transcribed
6 pages: 0% indexed, 0% transcribed
Displaying Work 1 - 10 of 350 in total
Subject Categories