About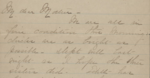 A collection of correspondences to and from various residents of Sandy Spring. With everything from business inquires to letters for Grandmother, there is a lot to explore and discover in this collection.
Works
Letter from Cornelia Hallowell Bentley to her mother, dated January 10, 1899. She mentions wanting to visit but is experiencing pain from her wisdom teeth. Tells story of young Jack cutting the tassels from the piano stool and getting punished for it. Conveys best wishes to the family.
8 pages: 63% transcribed, 38% needs review
Letter from Edward Kummer to his sister, Carrie (Caroline Kummer) dated August 8, 1857 from "Keokuk". Edward writes of family updates, recent weather, and the election of County officials.
2 pages: 50% transcribed, 50% needs review
Three handwritten notes to Deb and signed by Sarah, Sally, and Anne. The notes are undated and talk of classes and mutual acquaintances.
8 pages: 63% transcribed, 38% needs review