About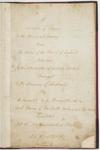 Rediscovering Indigenous Languages
These First Nations language materials are being made available to assist community access the collections which were identified in the Rediscovering Indigenous languages project.
The Rediscovering Indigenous Languages site features historic word lists, records and other documents relating to First Nations languages from the State Library's collections.
First Nations people should be advised that some of material within this resource contains offensive language, attitudes and descriptions of First Nations people. We acknowledge the harm and trauma caused by these documents so please look after yourself.
About the transcriptions
Visitors to the transcription website should be aware that the transcripts are a copy of the original document, and as such, may contain words or spelling that are not consistent with current understanding of language documentation.
Some lists may also record words and meanings inaccurately.
Works

Collaboration is restricted.
382 pages: 74% complete (93% transcribed, 18% needs review)

Collaboration is restricted.
151 pages: 3% complete (22% transcribed, 19% needs review)