About
Works

Diary comprising two volumes spanning the years from 1857 to 1863 written by James Adam. Volume 1 contains Adam's descriptions his journey from Scotland to India as a medical officer. On August 15, 1857 Adam departed from London on a steamer ship the Candia. He wrote of his sea voyage including...
Collaboration is restricted.
642 pages: 74% complete (70% indexed, 94% transcribed, 20% needs review)

UPenn Ms. Coll. 786 John Henshaw was born in Middletown, Connecticut to Daniel Henshaw and Sally Prentiss Henshaw on 13 June 1792. The family moved to Middlebury, Vermont, where John attended Middlebury College and graduated in 1808; he then attended Harvard University as a resident graduate...
Collaboration is restricted.
257 pages: 17% complete (16% indexed, 21% transcribed, 3% needs review)

UPenn Ms. Codex 1770 Born in New Haven, Connecticut to antebellum abolistionist, clergyman, and engraver Simeon Smith Jocelyn (1799-1879) and Harriet Starr (d. 1877). The Jocelyn family moved to Williamsburg, Brooklyn in 1844 where Simeon Smith Jocelyn was installed as the pastor of the...
Collaboration is restricted.
182 pages: 47% complete (13% indexed, 84% transcribed, 37% needs review)
UPenn Ms. Coll. 831 This leather-bound, paginated memoir and commonplace book, which the author calls "My rough log very roughly kept," was written by Robert Suggate between 1874 and 1878. It is reconstructed from his memory and from a deteriorated journal that he kept on his voyage to...
Collaboration is restricted.
281 pages: 98% complete (12% indexed, 99% transcribed)

UPenn Ms. Codex 939 A 755-ton Indiaman which made six trips between England and India. After the second trip, in 1789-1790, it was purchased by Robert Wigram, owner and builder of many Blackwall frigates. Documentation of a voyage between England, Calcutta, and Madras in 1789-1790,...
175 pages: 10% complete (10% indexed, 100% transcribed, 89% needs review)
UPenn Oversize Ms. Codex 938 The first volume documents a voyage under Captain R. Edwards from England to Calcutta and Madras between 1795 and 1797; the second volume lists the crew with their stations and wages at the beginning of the volume and documents another voyage, this time under...
Collaboration is restricted.
563 pages: 20% complete (19% indexed, 98% transcribed, 77% needs review)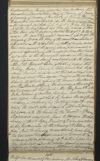 UPenn Ms. Coll. 919 Diary of an Englishman, possibly W. Kinsey of Bognor Regis, England. The first nine pages of the diary are written in pencil with the remainder in ink. The journal begins on 4 July 1817 as Kinsey embarks on his trip from London, England on his way to France. In the...
Collaboration is restricted.
196 pages: 5% complete (1% indexed, 14% transcribed, 8% needs review)

UPenn Ms. Codex 1819 Hadden was from Benholm, Kincardineshire, Scotland. He held the rank of segeant in a regiment and was stationed in East India for twelve years. Hadden probably served in the 42nd Royal Highland Regiment also known as the Black Watch. In the 1860s the Black Watch was...
Collaboration is restricted.
138 pages: 18% complete (4% indexed, 19% transcribed)

UPenn Ms. Coll. 723 This leather-bound, ruled diary was kept from 14 July 1863 to 31 August 1867 by William Gravell during his four-year stay in London, England to escape the draft of the Civil War. Gravell traveled from Upper Darby Township, near Philadelphia, Pennsylvania to New York where...
544 pages: 99% complete (54% indexed, 100% transcribed)
Subject Categories