Search for "Gen Birdwood's"
Allsop Diary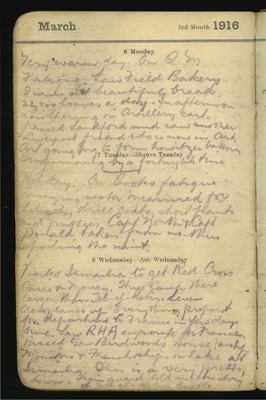 March 1916
6 Monday
Very warm day. On Q.M Fatigue. Saw Field Bakery. [?s] out beautiful breads 22,000 loaves a day. In afternoon saw Sherring on Artillery cart. Passed Sandford and saw another Liverpool friend who is now in Art. Art going to form howitzer battery Troops moving by a fortnights time
7 Tuesday
Hot day. On Cooks fatigue carrying water Measured for helmets, drill coats, short pants and puttees Capt North & Capt Donald taken from us thus spoiling the unit.
8 Wednesday
Visited Ismailia to get Red Cross Cases & money. Huge Camp there larger than Tel-el-Kebir. Seven Aeroplanes up Everything prepared for departure to France in few days time. Saw RHA enroute for France Passed Gen Birdwood's House. Warships Monitors & French ships on lake at Ismailia. This is a very pretty town. Train guard told me history of Tel-el-Kebir battle.
Last edit about 3 years ago by
Lenore