About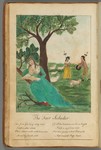 Colonial North America at Harvard Library
provides access to remarkable and wide-ranging materials digitized as part of an ongoing, multi-year project. When complete, the project will make available to the world approximately 650,000 digitized pages of all known archival and manuscript materials in the Harvard Library that relate to 17th- and 18th-century North America. Each item is connected to countless stories—of lives lived quietly and extravagantly, of encounters peaceful and volatile, and of places near and far – providing an opportunity to travel back in time, to rethink familiar stories, and to discover new ones.
Works
Summary: Concerns conditions in the French colonies in the West Indies about 1780, in particular conditions on the island of Santo Domingo.
354 pages: 5% indexed, 5% translated, 19% needs review
Metadata:
48 pages: 0% indexed, 8% transcribed, 71% needs review
History note: Brudenell was an agent for American loyalists. Summary Contains manuscript copies of correspondence and documents relating to the settlement of American loyalists in Digby, Nova Scotia. Includes maps of distribution of land, copies of grants, street and other property lists. End...
342 pages: 6% indexed, 40% transcribed, 4% needs review
Summary: Describes his voyage to Canada from Brest, and his observations of military operations and Indians while in Louisbourg, Québec, and Fort Carillon.
106 pages: 3% indexed, 3% translated
History note: Coulon de Villiers was an officer in command of colonial regular troops at Fort Duquesne (Pittsburgh, Pa.) Summary: Diary describes ambush of his brother's Canadian troop by the Virginia militia under George Washington, subsequent battle to avenge his death, and articles of...
21 pages: 10% indexed, 10% translated
History note: De Brahm was appointed Surveyor General for the Southern District of North America by George III in 1761. Summary: Report, commissioned by George III, concerning physical and historical surveys of South Carolina, Georgia, and East Florida, with information on religion, the...
428 pages: 2% indexed, 4% transcribed, 4% needs review
History note: Flynt (A. B. 1664) was a minister in Dorchester, Mass. Summary: Sermons concerning passages from Luke, Matthew, Ephesians, Isaiah, and other books.
382 pages: 2% indexed, 3% transcribed, 20% needs review
Metadata:
15 pages: 0% indexed, 0% transcribed
Contents: 1. Extrait du regré des depesches et avis expedions concernans les Indes orientales, occidentalles et la Nouvelle france de l'année 1674 (3 p.) -- 2. Memoire des marchandises qu'on peut envoyer de Marseille en Canada (4 p.) -- 3. Memoire pour Quebecq [a list of Indian artifacts...
15 pages: 33% indexed, 33% translated
Summary: Copies of letters dated at London, Barbados, and Boston, concerning personal matters, social life, and commerce, chiefly shipping, in Barbados and Boston.
286 pages: 1% indexed, 10% transcribed, 9% needs review
Displaying Work 1 - 10 of 28 in total
Subject Categories