About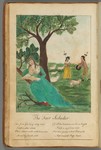 Colonial North America at Harvard Library
provides access to remarkable and wide-ranging materials digitized as part of an ongoing, multi-year project. When complete, the project will make available to the world approximately 650,000 digitized pages of all known archival and manuscript materials in the Harvard Library that relate to 17th- and 18th-century North America. Each item is connected to countless stories—of lives lived quietly and extravagantly, of encounters peaceful and volatile, and of places near and far – providing an opportunity to travel back in time, to rethink familiar stories, and to discover new ones.
Works
Summary: Account of the climate, soil, production and agriculture of North American regions from Nova Scotia to the West Indies and west to Louisiana; organized by region. Notes: Transcription in an unidentified hand of the printed book American husbandry (London, 1775), incomplete; with a...
440 pages: 2% indexed, 89% transcribed, 11% needs review
Metadata:
5 pages: 0% indexed, 0% transcribed, 100% needs review
Summary: Concerns conditions in the French colonies in the West Indies about 1780, in particular conditions on the island of Santo Domingo.
354 pages: 3% indexed, 3% translated, 14% needs review
Metadata:
48 pages: 0% indexed, 2% transcribed, 46% needs review
History note: Brudenell was an agent for American loyalists. Summary Contains manuscript copies of correspondence and documents relating to the settlement of American loyalists in Digby, Nova Scotia. Includes maps of distribution of land, copies of grants, street and other property lists. End...
342 pages: 6% indexed, 36% transcribed, 6% needs review
Summary: Describes his voyage to Canada from Brest, and his observations of military operations and Indians while in Louisbourg, Québec, and Fort Carillon.
106 pages: 3% indexed, 3% translated
Summary: Transcriptions of poems and essays.
158 pages: 2% indexed, 8% transcribed, 92% needs review
Summary Essays on air, exercise and the passions.
164 pages: 6% indexed, 38% transcribed, 61% needs review
Subject Categories