About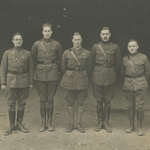 Collection of World War I documents, letters, and photos.
Works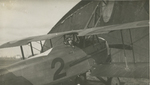 Journal #4 dated April 23, 1918 – September 3, 1918. Embury copied and in some cases added more details to some of the entries from a previous journal. Philip Embury (1891-1940) was born and raised in Berkeley, California, and attended the University of California. Early in the spring of 1917 he...
80 pages: 65% indexed, 98% transcribed, 1% needs review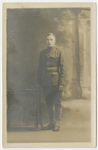 This collection consists mostly of letters written by Private Henry A. Eckhardt to his girlfriend Marie Jochumsen while he was stationed in France. There are also a few letters written by Marie to Henry, and some to Marie or Henry from others. Henry A. Eckhardt (1890-1962) was drafted into the...
177 pages: 58% indexed, 96% transcribed
Subject Categories