Search for "Senator Mitchell"
Box 251 YB YH reprimand stove 1874 to 1875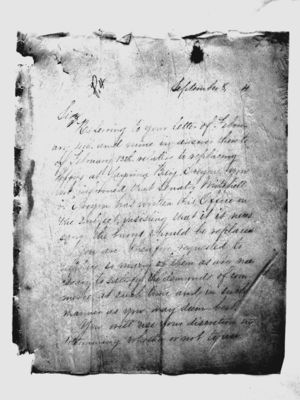 September 8,
Sir
Referring to your letter of February 4 and mine in answer thereto of February 13th relative to replacing buoys at Yaquina Bay, Oregon, you are informed that Senator Mitchell of Oregon had written this office on the subject, insisting that it is news??? any??? the buoys should be replaced. You are therefore requested to replace as many of them as are necessary to satisfy the demands of commerce, in such time and in such manner as you may deem best. You will use your discretion in determining whether or not to use
Last edit about 3 years ago by
Wjhoward
Box 252 List of supplies 1885, YB, YH Emery Pay 1887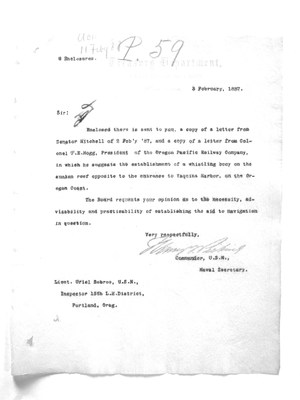 2 Enclosures.
3 February, 1887.
Sir: Enclosed there is sent to you, a copy of the letter from Senator Mitchell of 2 Feb'y '87, and a copy of a letter from Colonel F.E.Hogg, President of the Oregon Pacific Railway Company, in which he suggests the establishment of a whistling buoy on the sunken reef opposite to the entrance to Yaquina Harbor, on the Oregon Coast. The Board requests your opinion as to the necessity, aivisability and practicability of establishing the aid to navigation in question. Very respectfully, ??? Commander, U. S. N., Naval Secretary.
Lieut. Uriel Sebree, U.S.N., Inspector 13th L.H.District, Portland, Oreg.
Last edit over 1 year ago by
jwallace