Search for Lampist* lampist*
YH LH location and building Vol. 311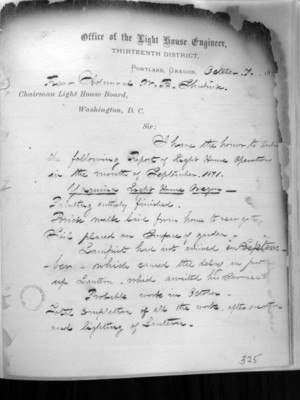 Office of the Light House EngineerThirteenth District,Portland, OregonRear Admiral W.B. ShubrickChairman Light House Board,Washington, D.C.
Sir:I have the honor to submit the following report of Light House operations the month of September.1871.
Yaquina Light House OregonPainting entirely finished.Brick walk laid from house to rear gate.Soil placed on surface of garden.
Lampist had not arrived in September-which caused the delay in putting up Lantern- which awaited his services
Probable work in October- Total completion of all the work after erection and lighting of Lantern.
325
Last edit about 1 year ago by
DReade
1871-1872 keeper selection and LH building Vol. 336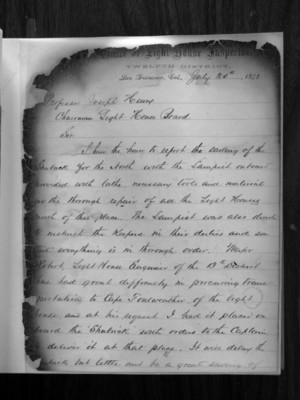 Office of Light-House Inspector, Twelfth District, San Francisco, Cal., July 24th, 1872
Professor Joseph Henry, Chairman Light House Board Sir: I have the honor to report the sailing of the Shubrick for the North with the Lampist on board provided with lathe, necessary tools and material for the thorough repair of all the Light Houses north of this place. The Lampist was also directed to instruct the Keepers in their duties and see that everything is in thorough order. Major Robert, Light House Engineer of the 13th District has had great difficulty in procuring trans- portation to Cape Foulweather, of the light house, and at his request I had it placed on board the "Shubrick" with orders to the Captain to deliver it at that place. It will delay the Shubrick but little and be a great saving of
Last edit over 2 years ago by
lkarnatz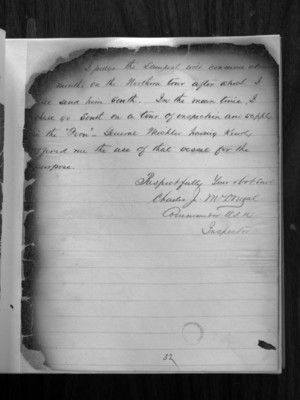 I judge the Lampist will consume about [?] months on the Northern tour after which I will send him South. In the mean time, I shall go South on a tour of inspection and supply, in the "Fern" -- General Michler having kindly offered me the use of that vessel for the purpose.
Respectfully Your [obed. serv.?] Charles J. McDougal, Commander USN Inspector
Last edit over 2 years ago by
lkarnatz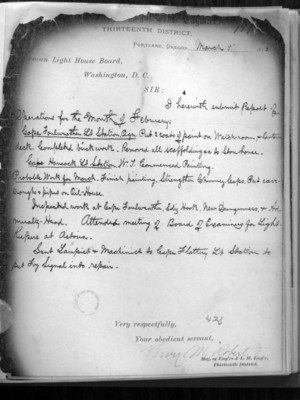 Office of the Light House Engineer Thirteenth District
Portland, Oregon March 5", 1873
Chairman Light House Board Washington D. C.
Sir:
I herewith submit report of operations for the month of February:
Cape Foulweather Lt Station, Ogn. Put 2 coats of paint on Watch-room, & lantern deck. Completed brickwork. Removed all scaffolding & e So Store-House. Cape Hancock Lt Station, W. L. Commenced Painting.
Probable Work for March. Finish painting. Strengthen Chimney leaks. Put eave troughs & pipes on Oil-House.
Inspected work at Cape Foulweather , Ediz hook, New Dungeness, & Admiralty-Head. Attended meeting of Board of Examiners for Light Keepers at Astoria.
Sent Lampist & Machinist to Cape Flattery Lt Station to put fog Signal into repair.
Very respectfully, Your obedient servant,
Henry M Robert Maj. of Eng'rs & L. H. Eng'r, Thirteenth District
Last edit over 1 year ago by
Jayk
1870-73 Lighthouse Board Annual Reports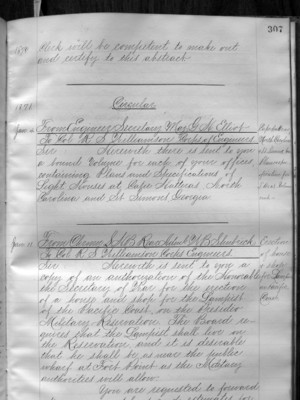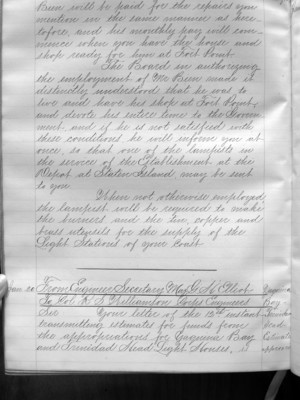 Bien will be paid for the repairs you mention in the same manner as heretofore, and his monthly pay will commence when you have the house and shop ready for him at Fort Point. The Board in authorizing the employment of Mr Bien made it distinctly understood that he was to live and have his shop at Fort Point, and devote his entire time to the Government, and if he is not satisfied with these conditions, he will inform you at once, so that one of the lampists in the service of the Establishment at the Depot at Staten Island may be sent to you. When not otherwise employed, the lampist will be required to make the burners and the tin, copper, and brass utensils for the supply of the Light Stations of your Coast.
Jan. 20. From Engineer Secretary Maj G.H. Elliot. To Col. R.S. Williamson Corps Engineers. Sir: Your letter of the 12th instant transmitting estimates for funds from the appropriations for Yaquina Bay and Trinidad Head Light Houses, is
Last edit almost 3 years ago by
gkazebier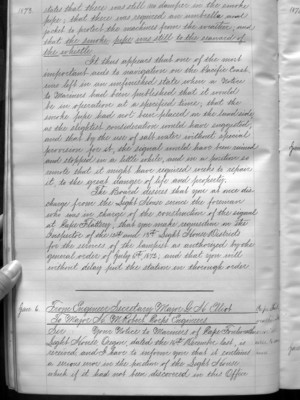 1873.
states that there was still no damper in the smoke pipe; that there was required an umbrella and jacket to protect the machines from the weather; and that the smoke-pipe was still to the seaward of the whistle.
It thus appears that one of the most important aids to navigation on the Pacific Coast, was left in an unfinished state when a Notice to Mariners had been published that it would be in operation at a specified time; that the smoke-pipe had not been placed on the land side as the slightest consideration would have suggested; and that by the use of salt water without special provision for it, the signal would have been ruined and stopped in a little while, and in a position so remote that it might have required weeks to repair it, to the great danger of life and property.
The Board desires that you at once discharge from the Light House service the foreman who was in charge of the construction of the signal at Cape Flattery; that you make requisition on the Inspector of the 12th and 13th Light House Districts for the services of the lampist and authorized by the general order of July 6th, 1872; and that you will without delay put the station in thorough order.
Jan. 6.
From Engineer secretary Major G. H. Elliot. To Majro H. M. Robert. Corps Engineers.
Sir: Your Notice to Mariners of Cape Foulweather Light House, Oregon, dated the 16th December last, is received, and I have to inform you that it contains a serious error in the position of the Light House which if it had not been discovered in this Office
Last edit about 3 years ago by
LauraP
1873-75 Lighthouse Keepers Logs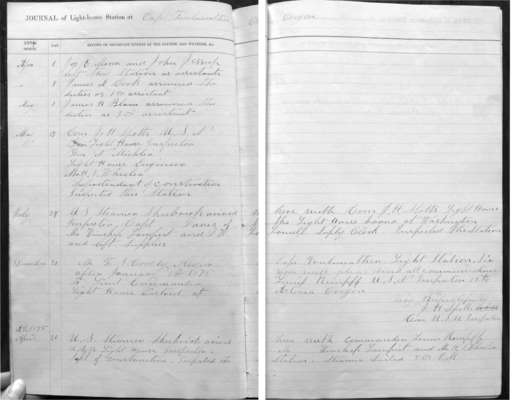 1874 April 1 Joe C Mann and John Jessup left the Station as assistants
1874 April 8 James A Cook assumed the duties as 1st assistant
1874 May 1 James H Blain assumed the duties as 2nd assistant
1874 May 17 Com J. H Spotts U.S.N Gen Light House Inspection, Gen N. Michler Light House Engineer, Mr H. S. Wheeler Superintendant of construction, Inspected this Station
1874 July 24 US Steamer Shubrick arrived here with Com J. H. Spotts Light House Inspector, Capt Davis of the Light House board at Washington, Mr. Winship Lampist and D W Lowell Suply Clerk, inspected the Station and left supplies
1874 December 21 Mr. F. S. Crosby, Keeper Cape Foulweather Light Station. Sir after January 1 1875 you will please send all communications to Lieut-Commander Lewis Kempff U.S.N Inspector 13th Light House District at Astoria Oregon Very Respectfully J H Spotts U.S.N Com U.S.N Inspector A.D. 1875
1875 April 20 U.S. Steamer Shubrick arrived here with Commander Lewis Kempff U.S.N. Light House Inspector, Mr Winship Lampist and Mr H. S. Wheeler Supt of construction, Inspected the Station. Steamer sailed 5 O'c P.M.
Last edit about 3 years ago by
Friends of Yaquina Lighthouses