Search for #93*
YH LH location and building Vol. 311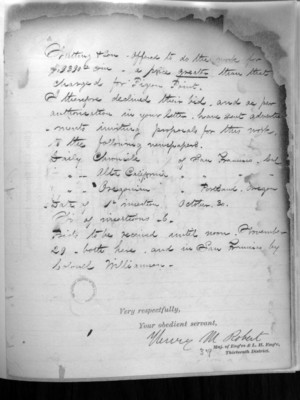 Nutting & Son - offered to do the work for $9390.00 coin - a price greater than that charged for Pigeon Point.
I therefore declined their bid and as per authorization in your letter have sent advertisements inviting proposals for this work, to the following newspapers.
Daily Chronicle of San Francisco, Cal" Alta California " " "" Oregonian of Portland OregonDate of 1st insertion October 30No. of insertions _6_Bids to be received until noon - November 29 _ both here and in San Francisco by Colonel Williamson
Very respectfully,Your obedient servant,Henry M RobertMaj. of Eng'rs & L.H. Eng'r,Thirteenth District339
Last edit 9 months ago by
DReade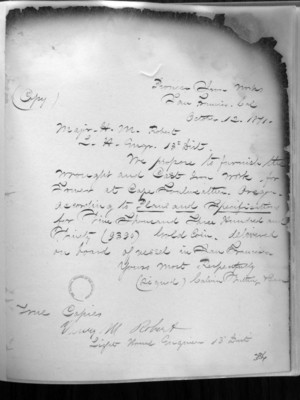 (Copy)
Pioneer Iron WorksSan Francisco, CalOctober 12, 1871
Major H.M. RobertL.H. Engr 13th Dist
We propose to furnish the wrought and cast iron work for Tower at Cape Foulweather Oregon. According to Plans and Specifications for Nine Thousand Three Hundred and Ninety (9390) gold coin delivered on board of vessel in San Francisco.
Yours Most Respectfully(signed) Calvin Nutting & Son
True CopiesHenry M RobertLighthouse Engineer 13 Dist
336
Last edit 9 months ago by
DReade