Search for "12th Light-House District"
Box 245 1893 to 95 YB lights CF repairs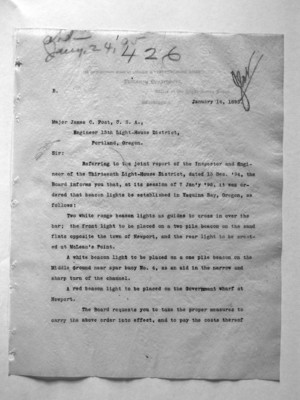 Treasury Department Office of the Lighthouse Guard Washington, January 14, 1895
Major James C Post, U. S. A., Engineer 12th Light-House District, Portland, Oregon
Sir: Referring to the joint report of the Inspector and Engineer of the Thirteenth Light-House District, dated 13 Dec. '94, the Board informs you that, as its session of 7 Jan'y '95, it was ordered that beacon lights be established in Yaquina Bay, Oregon, as follows:
Two white range beacon as guides to cross in over the bar; the front light to be placed on a two pile beacon on the sand flats opposite the town of Newport, and the rear light to be erected at McLean's Point.
A white beacon light to be placed on a one pile beacon on the Middle Ground near spar buoy No. 4, as an aid in the narrow and sharp turn of the channel.
A red beacon light to be placed on the Government wharf at Newport.
The Board requests you to take the proper measures to carry the above order into effect, and to pay the costs thereof
Last edit almost 3 years ago by
Wjhoward
1870-73 Lighthouse Board Annual Reports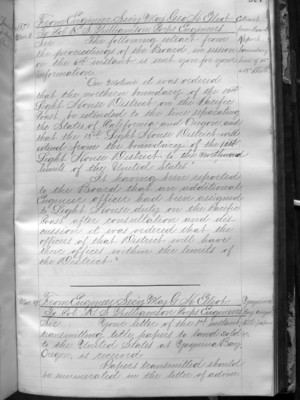 (SIDE BAR) Extract from Board Report boundary line 12"&12" dis ts.
1871 Mar. 8 From Engineer Secy Maj. Geo. H. Elliot To Col. R. S. Williamson Corps Engineers The following extract from the proceedings of the Board in session on the 6th instant is sent you for your information. On notion it was ordered that the northern boundary of the 12th Light-House District on the Pacific Coast be extended to the line separating the States of California and Oregon and that the 13th Light House District will extend from the boundary of the 12th Light House District to the Northern limits of the United States. It having been reported to the Board that an additional Engineer officer had been assigned to Light House duty on the Pacific Coast after consultation and discussion it was ordered that the officers of that District will have their offices within the limits of the District.
Mar 9 From Engineer Secy Maj. G.H. Elliot To Col R. S. Williamson Corps Engineers Sir: Your letter of the 1st instant transmitting title papers to land sold to the United States at Yaquina Bay, Oregon is received. Papers transmitted should be enumerated on the letter of advice
(SIDE BAR) Yaquina Bay Oregon title papers
Last edit over 2 years ago by
gkazebier