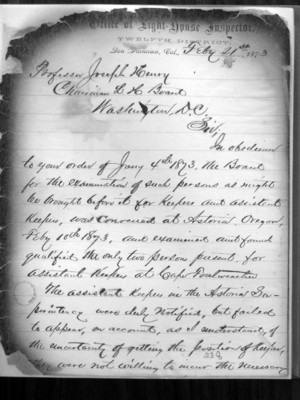 Office of Light-House Inspector, Twelfth District, San Francisco, Cal., Feb 21st, 1873
Professor Joseph Henry Chairman L.H. Board Washington, D.C. Sir, In obedience to your order of Jany. 4th 1873, the Board for the examination of such persons as might be brought before it for Keepers and assistant Keeper, was convened at Astoria, Oregon, Feby., 10th, 1873, and examined and found qualified the only two persons present, for assistant Keeper at Cape Foulweather. The assistant Keeper in the Astoria Su perintency were duly notified, but failed to appear, on account, as I understand, of the uncertainty of getting the position of Keeper, they were not willing to incur the necessary
Last edit about 2 years ago by
lkarnatz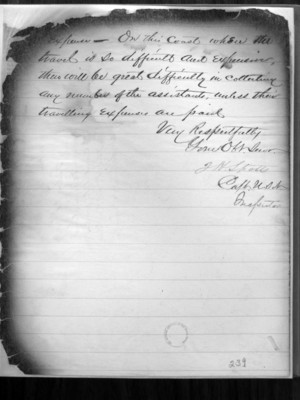 expense -- On this coast where the travel is so difficult and expensive, there??? will be great difficulty in collecting any number of the assistants, unless their travelling expenses are paid. Very Respectfully Your Obt. Serv. J.H. Spotts Capt. U.S.N. Inspector
Last edit about 2 years ago by
lkarnatz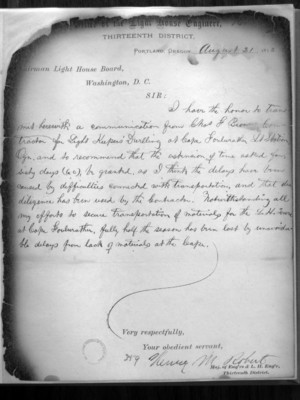 Office of Light-House Engineer, Thirteenth District, Portland, Oregon, Aug 21, 1872
Chairman Light House Board, Washington, D.C. SIR: I have the honor to transmit herewith a communication from Chas L. Brown, contractor for Light Keepers' Dwelling at Cape Foulweather Lt. Station, Og'n, and to recommend that the extension of time asked for, sixty days (60), be granted, as I think the delays have been caused by difficulties connected with transportation, and that due diligence has been used by the contractor. Notwithstanding all my efforts to secure transportation of materials for the L.H. Tower at Cape Foulweather, fully half the season has been lost by unavoidable delays from lack of materials at the Cape.
Very respectfully, Your obedient servant, Henry M. Robert Maj. Of Eng'rs & L.H. Eng'r Thirteenth District
Last edit about 2 years ago by
lkarnatz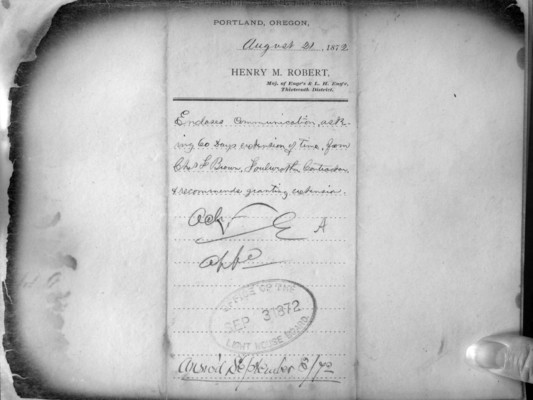 August 21, 1872
HENRY M. ROBERT, Maj. Of Engr's & L.H. Eng'r Thirteenth District.
Encloses communication, asking 60 days extension of time, from Chas L. Brown, Foulweather Contractor, & recommends granting extension.
??? ???
(Stamped) OFFICE OF THE LIGHT HOUSE BOARD, SEP 3 1872
Answ'd September 3 / 72
Last edit about 2 years ago by
lkarnatz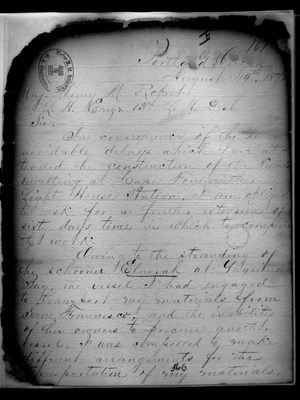 Portland, Oregon August 19th, 1872 (Stamped) H.M. ROBERT, US Engineers. AUG 19 1872 Maj. Henry M. Roberts L.H. Engr. 13th L.H. Dist. Sir: In consequence of the unavoidable delays which have attended the construction of the Keepers Dwelling at Cape Foulweather Light House Station, I am obliged to ask for a further extension of sixty days time in which to complete the work.
Illegible stamp here???
Owing to the stranding of the schooner Elnorah at Yaquina Bay, the vessel I had engaged to transport my materials from San Francisco, and the inability of her owners to procure another vessel, I was compelled to make different arrangements for the transportation of my materials,
Last edit about 2 years ago by
lkarnatz