About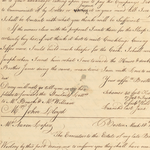 Colonial North America at Harvard Library provides access to remarkable and wide-ranging materials digitized as part of an ongoing, multi-year project. When complete, the project will make available to the world approximately 650,000 digitized pages of all known archival and manuscript materials in the Harvard Library that relate to 17th- and 18th-century North America. Each item is connected to countless stories—of lives lived quietly and extravagantly, of encounters peaceful and volatile, and of places near and far – providing an opportunity to travel back in time, to rethink familiar stories, and to discover new ones.
Works
Metadata:
16 pages: 44% indexed, 88% transcribed, 13% needs review
Biographical Note George Augustus Cushing was a merchant and slave trader active in Havana, Cuba, and Boston between the 1790s and early 1800s. He exported commodities including American lace, ribbons, flour, and staves and imported West Indies goods like molasses and sugar. Often in partnership...
170 pages: 4% indexed, 94% transcribed, 6% needs review
Correspondents include victualling agent Matthew Woodford, to whom Thomas Hancock wrote about provisions shipped to Annapolis Royal and Fort Cumberland in Chignecto, Nova Scotia,; difficulties settling accounts with the government due to changes in personnel and deaths of multiple commanding...
436 pages: 3% indexed, 11% transcribed, 33% needs review
Biographical Note Henry Lloyd (1709-1795) was a Loyalist merchant in Boston. He engaged in consignment sales and shipping ventures to Canada, the West Indies, England, and Europe. Among the goods marketed or traded by Lloyd included whalebone, mahogany, lumber, fish, potash, and coffee. After...
568 pages: 13% indexed, 19% transcribed, 8% needs review
Biographical Note William Blair Townsend was born July 6, 1723, son of James Townsend and Elizabeth (Phillips) Townsend. He died June 16, 1778, in Weston, Massachusetts. He graduated from Harvard College, class of 1741. He started business in Boston with Edward Wigglesworth as an importer of...
280 pages: 3% indexed, 14% transcribed, 36% needs review
Subject Categories