About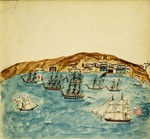 Works
Set sail on the bark Elizabeth on a whaling journey to the Indian Ocean. Kept by Master Thomas C. Bates, this log is illustrated, and is interspersed with poetry. You can read more about this item in our catalog.
170 pages: 22% transcribed, 12% needs review
Set sail aboard a journey on the Nantucket whaleship Charles Carroll! Named after a signer of the Declaration of Independence, the ship was built at Brant Point in 1832 for captain and partial Owen Chase, first mate and survivor of the ill-fated Essex. Kept by an unknown keeper, this log...
306 pages: 42% transcribed
Vessel Name: Chelsea Type of Vessel: Ship Dates of Log: Nov. 1, 1834 - Feb. 1836 Keeper: William Morris Davis Purpose of Voyage: Whaling Port of Origin: New London, Conn. Master: Charles Butler Owner-Agent: Havens & Smith Range of Voyage: North Pacific Ocean; South Pacific Ocean...
150 pages: 17% transcribed, 25% needs review
Ship aboard the Edward Cary! This log kept by an unknown first mate documents a later whaling voyage of the vessel under Master Francis Macy, and features entries on sharks, desertions, and stowaways! You can read more about this log in our catalog.
406 pages: 58% transcribed
Vessel Name: Indian Chief Type of Vessel: Ship Dates of Log: Oct. 1, 1842 - April 5, 1844 Keeper: Thomas R. Bloomfield, Mate Purpose of Voyage: Whaling Port of Origin: New London, Conn. Master: James F. Skinner Owner-Agent: Frink, Crew & Co. Range of Voyage: Indian Ocean; North...
134 pages: 13% transcribed, 18% needs review
This log was kept by John Conant on board the ship Richard Mitchell during its 1831 whaling voyage to the Pacific Ocean. Throughout the log, Conant uses several different stamps to indicate ships spoken, whales sighted and taken, and the loss of whaleboats. In a small hand, he also...
176 pages: 20% transcribed, 7% needs review
In this log, Master Reuben Russell documents the 1841-1846 whaling voyage of the ship Susan out of Nantucket, Mass. At over 400 pages, this substantial log is profusely and beautifully illustrated with skillfully done drawings of humpback and sperm whales, ships spoken, coastlines sighted,...
435 pages: 41% transcribed
Bound in a dust jacket made from sail cloth, this volume documents two voyages aboard two different ships. In the first part, George W. Coffin records a whaling voyage aboard the ship Narragansett. Less information is known about the second, later voyage of the ship Enterprise. Help us...
102 pages: 48% transcribed
Ship aboard the brig Juno with master Thomas C. Bates! Interspersed with poetry and illustrated with pencil drawings throughout, the log also contains stories of Bates' earlier voyages. You can read more about this item in our catalog.
266 pages: 21% transcribed, 21% needs review
Andrew Meader was a green hand on the Susan during this 1846 voyage, and was wooing Captain Reuben Russell's daughter, Ann Maria. Russell would permit their marriage only if Meader showed that he was tough enough to endure a whaling voyage. Upon returning from this 1746 journey aboard the Susan...
250 pages: 67% transcribed, 33% needs review