About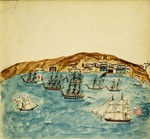 Works
This log recounts the 1854–1858 voyage of the Nantucket ship Edward Cary under Master Perry Winslow. Kept by boatsteerer Joseph E. Ray (1834–1860), the log faithfully documents wind, weather, and whaling. Acquired by the association in 1930, the log of the Edward Cary is one of the most...
284 pages: 40% transcribed
This log was kept by John Conant on board the ship Richard Mitchell during its 1831 whaling voyage to the Pacific Ocean. Throughout the log, Conant uses several different stamps to indicate ships spoken, whales sighted and taken, and the loss of whaleboats. In a small hand, he also...
176 pages: 7% transcribed, 1% needs review
In this log, Master Reuben Russell documents the 1841-1846 whaling voyage of the ship Susan out of Nantucket, Mass. At over 400 pages, this substantial log is profusely and beautifully illustrated with skillfully done drawings of humpback and sperm whales, ships spoken, coastlines sighted,...
435 pages: 5% transcribed, 1% needs review
This log was kept during the 1832/1833 whaling voyage of the ship Wabash by Thomas G. Nickerson (1805-1883). The ship sailed out of New London, Conn. under Master Luther Fuller. Nickerson was born in Harwich, Mass., to Thomas and Rebecca Nickerson née Gibson. In 1819, when he was 14 years...
100 pages: 80% transcribed
A very exciting and recent addition to the ships' logs collection, Milo Calkin's memoir recounts "accidents, incidents, and other events, taken down as they occurred during ten years of travel by land, and sea." Calkin's well crafted, engaging narrative and exquisite illustrations draw the...
106 pages: 26% transcribed, 1% needs review