About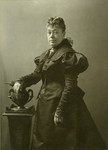 The papers of Jane L. Stanford pertain largely to the founding and administration of Stanford University, along with her personal and social affairs; included in the papers are correspondence, business records, legal and financial papers, speeches, news clippings, and biographical materials.
Works
ALS enjoyed visit to University and offers his help 1904 May 30 ALS enjoyed visit to University 1904 June 10 ALS (and ts copy) leaves matter of salary in her hands, would like some guidance on duties involved 1904 June 23 ALS re salary as organist in chapel and possible teaching duties...
14 pages: 0% indexed, 36% transcribed
TLS, with copy of Brown's earlier letter and clippings from San Francisco Vindicator, re his journalistic service on behalf of Sen. Stanford and request for assistance 1893 July ALS to Susie Bristol (J. L. Stanford secretary) correcting impression he was stating a legal claim on Sen....
18 pages: 0% indexed, 0% transcribed
ALS (to Miss Berner) re inscription for Church 1901 Dec 4 ALS re difficulties with inscription for facade of Church 1901 Dec 4 ALS from Constance Camerino seasonal greetings and family news 1901 Dec 5 ALS (with mss. copy) re sending watercolor drawings by Paoletti for mosaics and gives...
45 pages: 0% indexed, 18% transcribed
ALS awaiting birth of her baby, asks for a RR pass 1894 Jan 12 ALS named her son Leland 1894 Mar 22 ALS living in San Francisco, would like to call on her 1895 Dec 1 Metadata: Available Online: https://purl.stanford.edu/cn561hq2170 Title: Correspondence (incoming): Carr, Austie L.,...
13 pages: 0% indexed, 31% transcribed, 69% needs review
ALS re arrangements for unveiling of Fr. Junipero statue in Monterey; includes letter to Casanova from Society of California Pioneers of May 21, 1891 May 24, 1891 ALS thanks for gift of wine May 26, 1891 ALS received her gifts July 31, 1891 ALS has offered prayers for her and husband Feb...
7 pages: 29% indexed, 43% transcribed
Center, Alexander, Pacific Mail Steamship Company, passage on to Japan reserved for Jane 1902 Apr 15 Chandler, John Ries, ALS congratulations on the University Sep 12 1895 Chandler, Katherine (Mrs. Jefferson), 2 ALS congratulations on government suit July 11, [1895] Chapman, Elizabeth,...
24 pages: 8% indexed, 8% transcribed, 4% needs review
ALS will call tomorrow 1895 May 1 ALS advises her to make new will and consider other matters re University 1896 Feb 9 Tel. congratulations 1896 Mar 2 ALS approves of her letter to Crocker 1896 Mar 25 Metadata: Available Online: https://purl.stanford.edu/sw666mq5803 Title:...
27 pages: 0% indexed, 0% transcribed
Coe, Katharine W., LS praise for establishing University Feb 14, 1891 Colonial Dames of America, invitation to apply for membership s. Joanna Maynard Wright Mar 6 1902 Colson, W (?), National Fine Arts Company, painting by Benj. West for sale 1898 Aug 16 Colton, Lella Lee, ALS visit to...
26 pages: 0% indexed, 15% transcribed, 12% needs review
Cotton, Aylett R. Jr., ALS all congrats on decisions in government suit Jul 13, 1895; Oct 15, 1895; Mar 2, 1896 Court, James, ALS encloses draft of $100 from Albert Judson 1893 Sep 7 Covert, Mary A., Tel. congratulations July 1, 1895 Covey, F. W., ALS Palo Alto Stock Farm affairs, thanks...
30 pages: 0% indexed, 57% transcribed, 23% needs review
ALS J.L.Stanford has given them house in Albany, house needs work Apr 15 1888 Anna Hewes' death and funeral, Mr. Hewes and Chas. Lathrop Aug 17 1892 the Stanfords in Europe Aug 28, 1892 death of Leland Stanford July 11, [1893] condition of Lathrop plot in cemetery July 25, [1893] ...
22 pages: 0% indexed, 14% transcribed
Subject Categories